FC Halifax Town midfielder Michael Collins spoke to Shaymen TV following a brilliant 1-1 draw away to Wrexham in the Vanarama National League.
Town fell behind after 19 minutes when former Shay striker Scott Boden found the net with a bullet header but the team rallied and managed to level up the scored before the break. Scott Garner managed to get onto the end of a Jake Hibbs cross that glanced off the top of centre-back partner Matty Brown's head.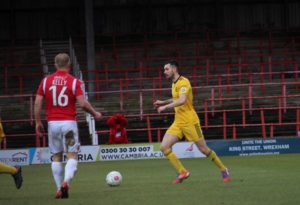 Collins says that the result is great for the side.
"It's a big positive. Obviously going off what has happened over the last couple of weeks, the lads came together well, and we knew it was going to be a tough task coming here against the league leaders." He said.
Although he acknowledged that this would be a stern challenge, he believes that the team really could have taken more from the fixture.
He said, "We're leaving here disappointed that we've not taken all three points and that's a measure today of how the lads of gone at it and applied themselves and how much professionalism is in the group that we've dealt with the adversity of the manager going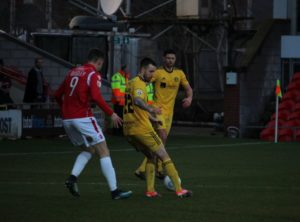 "We've still managed to put in a performance like that which I think shows the quality that we've got in the group."
The midfielder is taking a positive outlook on the current situation at the cub and isn't worrying just yet.
"There's no need to panic in my opinion. There's enough experience and quality in the dressing room to pull us out of the trouble that we are in." He said.
Delighted with the result, Collins believes that this could set the team up nicely for to pick up further points.
He said, "This is a positive result for us and if we can build on this going into the next two games then it's going to be massive for us."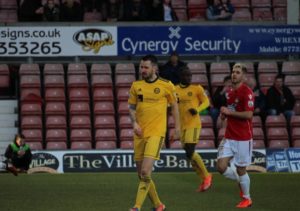 "It was a great time to score just before half-time… for the last 15 or 20 minutes of the half we began to get on top and play some good football, create chances and score at the right time. It took the wind out of their sails.
"In the second half, we had the better chances and probably should have won the game. But, with everything that's gone on we've got to be pleased to come here and get a point."
The 31-year-old was full of praise for Sam Johnson following yet another outstanding performance from the man between the sticks.
"He's reliable and consistent and has been like that for the time that I've been here and by all accounts for the whole of the season.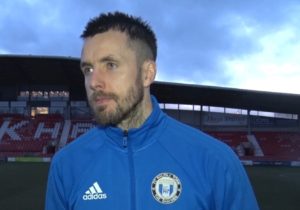 "He's trustworthy behind us and that builds a lot of confidence for the back four. You know that if you make a mistake or something doesn't quite happen, you've got that extra line of defence that might just get you out of trouble." He said.
Collins insisted that he has full faith in the current squad coming through this difficult period.
He said "it's a great group of lads, I've been in dressing rooms sometimes where you look around when you're in a bit of trouble and you think, I'm not sure if we've got the right sort of mentalities in this dressing room. But we've got characters and leaders and that's why I said that I believe everybody should remain calm."
Watch the full interview on Shaymen TV now.
Read more posts by FC Halifax Town