GOAL-O-METER
An old favourite that offers supporters an opportunity to sponsor every goal scored by FC Halifax Town this season. Goals scored in the National League, FA Cup and FA Trophy will be included. The minimum sponsorship is 25p per goal. Funds raised on the Goal-O-Meter help cover the cost of FC Halifax Town's first team coach travel.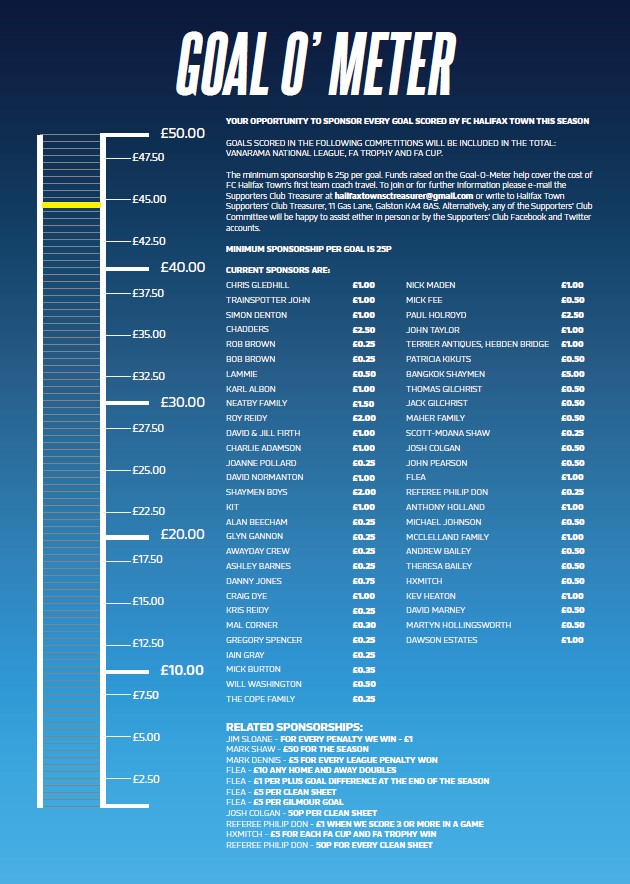 THE TWO GRAND FCHT WALL    
Get your name or business name onto a virtual brick to help the club fund the supplies required in the physio room.  A vital source of income for our physio in his battle to keep the players fit. Each brick costs £10 and there will be a total of 200 available. A limited number of foundations (larger squares) are also available for £50 each.
To join either of the above or for further information please e-mail the Supporters Club Treasurer at halifaxtownsctreasurer@gmail.com or write to Halifax Town Supporters' Club Treasurer, 11 Gas Lane, Galston KA4 8AS. Alternatively, any of the Supporters' Club Committee will be happy to assist either in person or by the Supporters' Club Facebook and Twitter accounts. Goal-O-Meter and the Two Grand FCHT Wall Sponsorships will be published in the club programme and also on the club website. www.fchalifaxtown.com
Anyone joining the above fundraisers will be added to the HTSC member list if they are not already a member (unless they opt out) and will be eligible for all future benefits and offers.