FC Halifax Town's Niall Maher and Jack Redshaw were delighted with the Shaymen's 4-0 thrashing of Wrexham in the first round of The BuildBase FA Trophy.
Speaking to Shaymen TV as part of a double interview after the match, the pair were happy to each put in goal-scoring performances at The Shay.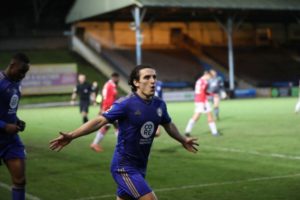 Maher scored the first goal of the game with a free-kick inside the first nine minutes, and he was happy with the side's display.
"Overall, I thought it was a good team performance," he said. "We've been after a reaction for a few weeks now, and I thought we put on a good display for our fans and ourselves."
Maher joked that Redshaw had got "bullied" into not taking the free-kick as they both stood over the set piece which led to the opening goal.
"It's not quite true," said Redshaw, "but he really did want it and he fancied it. At the end of the day he's put it in the net, so fair play to him."
Redshaw scored two goals of his own in nine minutes and, with his second goal particularly easy on the eye.
"The keeper came out, I always knew he was going to commit himself, so I only had one thought in my head: to dink it over him," said Redshaw.
Notts County is next up for the Shaymen. Redshaw expects it to be a tough game but said "the lads are looking forward to it".
Maher dedicated his goal to himself and Jerome Binnom-Williams after a difficult couple weeks with the passing of their grand-mothers. Our thoughts go out to Niall, Jerome and their families.
Head over to Shaymen TV to see the full double interview with Niall Maher and Jack Redshaw.
Read more posts by FC Halifax Town