FC Halifax Town manager was delighted at the team's performance in the 4-0 win over Wrexham. He spoke to Shaymen TV after the game to give his thoughts.
"I'm really pleased, we scored some great goals," Wild said. "The focus this week has been us working harder than we worked at Yeovil. I've looked back at the stats for how far we ran last week, and it was nowhere near good enough. We put it back on the players this week, they have probably been a little bit annoyed with me this week, but I got what I wanted today. Everybody contributed to the excellent display."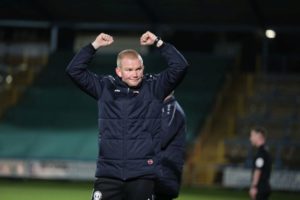 Wild was especially pleased with the start following Niall Maher's goal. The deflected free-kick gave Town a 1-0 lead just nine minutes into the game. The Shaymen then doubled their lead just two minutes into the second-half through Jack Redshaw.
"We needed that, didn't we," said Wild. "We started well, and we had some opportunities, but to actually put one in the net takes the pressure off us a little bit. Also scoring so quickly after half time helped us because then they're good times in games to score. To score at those time really puts the opposition on the back foot."
This season, Town have struggled when playing against ten men. Wild was delighted the team were able to take the lead and continued to dominate the game following Leighton Mcintosh's dismissal.
"First time we've played against ten men and won this season," he said. "Over the moon to get that off our backs. Also, brilliant to get over our recent home form which hasn't been great, I know. Really pleasing all-round to put a few things straight and get back to the Halifax Town that was here at the start of the season."
Next Saturday Town face Notts County at The Shay. When visiting Meadow Lane County held on to a 1-0 win thanks to Kyle Wootton. Wild is hoping for a similar performance and for another great result.
"Big game again. I know what Neal [Ardley] will bring," said Wild. "We have got to match fire with fire again. We are going to work as hard as we can this week like we did last week. Hopefully we can put in a similar display again. One mistake in the game cost us last time, there was nothing between the two sides. Let's see what we can do next Saturday and see what we can bring to the table."
Watch the full interview with Pete Wild on Shaymen TV now!
Read more posts by Luke Davis