Dennis Bates – 17th May 1926 – 3rd October 2020
The Greatest Shayman', Dennis, a familiar face at the Shay, sadly passed away on 3rd October at the age of 94.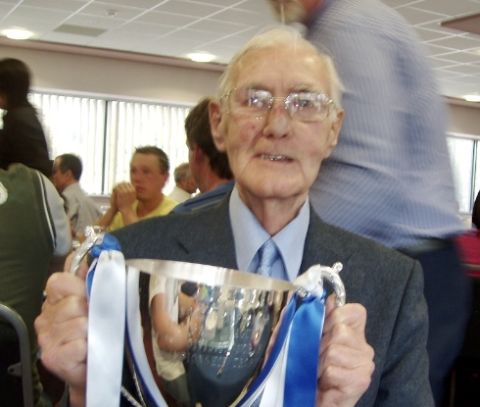 Football crazy and a lifelong supporter of the Club, Dennis has been a 'Shayman' since he was a little boy in short trousers.  He never missed a home game, attending every home match right up until lockdown this year, even though he had lost most of his vision and couldn't see what was happening on the pitch, he was still there to support his team.
At the age of 90 Dennis travelled on the supporters' coach to Wembley where he was well looked after by all the lads and the Club.  He wouldn't have missed that game for anything.
Dennis attended the Club annual dinner every year and thoroughly enjoyed the commendation he always received, standing up holding his arms in the air and taking a bow so that everybody applauding and cheering him could see him standing proud.
He loved the Club, ' A Shayman 'til I die', that was Dennis.
Read more posts by Kelly Gilchrist