New FC Halifax Town manager Jamie Fullarton believes his side has what it takes to retain their Vanarama National League status after watching from the stands as the Shaymen beat fellow strugglers Hartlepool United on Tuesday night.
Second half goals from Nathan Hotte and Ben Tomlinson – both players notching their first strikes of the season – within a five-minute burst gave Town a morale-boosting 2-0 victory – their first in nine league games – and put them four points clear of the relegation zone.
And Fullarton, who was unveiled as the new Shay Chief just hours before kick-off, revealed his short-term objective is to steer the club away from danger.
In an exclusive interview with the Official Website and Shaymen TV, Fullarton, who was full of praise for the players' attitudes, said:
"We can talk about long-term visions and plans and infrastructure but the reality is, retaining our (National) league status. That is our focus. We are looking short-term.
"We have got twelve games left and there are a required amount of points to be won for us to retain that league status. It is demanding but, after tonight in particular, it demonstrates the togetherness and the attitude of the group is there and that allows us to have a realistic opportunity to gain that successful short-term goal.
"It is a competitive division so, as you have seen over the years, from top to bottom everyone is capable of winning against each other.
"It is a great result tonight but our focus now turns to Saturday because we have now got to follow it up with another good performance and ensure the result is similar.
"Whatever has happened in the past gives you a pathway to steer away from and to learn from. The focus is on the next game and it is that cliché of the most important thing is the next game.
"Tonight, the basic requirement was that attitude, desire, enthusiasm and effort. I've been fortunate enough over the last few seasons to have watched many games at Halifax. That is a demand and expectation not only from the fans but from myself too. I think tonight we had it in abundance.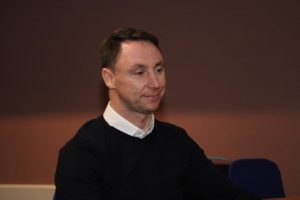 "And when you have a group that shows that intention and have that attitude, I can then look to bring a structure and organisation and help to give that framework for them to revert to and to be able to build and play from.
"It is about both boxes; can we create enough chances, whilst minimising the opportunities that the other team have? We did that well tonight and hopefully it can continue."
His new role comes almost two years after his only previous job in management came to an end at Notts County, where he only won three games of his twelve contests whilst in charge.
However, Fullarton, who becomes Town's sixth permanent manager since the reformation of the new club in 2008 after Jim Vince, Neil Aspin, Darren Kelly, Jim Harvey and more recently Billy Heath, insists his experience at Meadow Lane has made him stronger. He said:
"Every experience is a learning experience and it was a great experience from that point of view. It was a challenging experience to use that managerial cliché, which means that it was bloody tough. That is what challenging means.
"Does it make you stronger? Yes. And that is why, from that experience, I am looking to add value and bring something here that I have taken from that which makes me stronger and better in this role."
And the 43-year old, who has held coaching positions at Nottingham Forest, Bolton Wanderers, Blackburn Rovers and Crystal Palace, now can't wait to finally step into the dugout for the first time to guide the Shaymen at Eastleigh on Saturday. He said:
"I am just delighted to be here. You can look from afar but, obviously, it's much better being through the door and being involved in part of the game, as I was tonight.
"However, I can't wait (to be in the dugout). Having watched the game from the stands it is more difficult watching from up there than it is down there!
"There is a great feeling about the place. If we can reflect what's going on behind the scenes onto the pitch then we will have performances and we will have wins and that will galvanise the whole club together.
"Once you gain momentum and traction then you will get a real opportunity to be successful and achieve – and we all want the same thing."
Watch the full interview on Shaymen TV right now.
Read more posts by FC Halifax Town