269 appearances, Five permanent managers and two caretaker bosses, seven seasons, two promotions, one relegation, an FA Trophy winner, one player.
Scott McManus' seven-year stint as an FC Halifax Town player has come to an end today. McManus made the move across the Pennines having turned out for FC United of Manchester.
Before this, the Prestwich born 28-year-old starred for his hometown club, as well as featuring for Curzon Ashton and Crewe Alexandra – where he scored a goal in the Football League.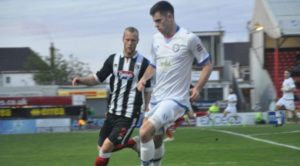 Rarely does such longevity occur in modern football – and more so in non-league football – unsurprisingly McManus was the longest serving player in the Halifax squad, four years more than anybody else in the team.
Additionally, he holds the record for most appearances for FC Halifax Town. 258 starts in league and cup with 11 as substitute, which is more than anybody else, Danny Lowe the man in second.
He was part of the team which faced Bradford City in the FA Cup in November 2014. He was here when the club secured their biggest league win, 7-0 over Hinckley United in the Blue Square North. He was part of the defence which kept seven successive shutouts – a club record.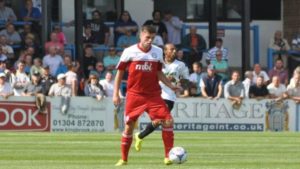 However, it was the second season where he really made the left-back spot his own, overcoming early injury worries.
This was epitomised as McManus missed only one league game in two seasons between 2013 and 2015.
Players and managers came and went, yet McManus didn't. He is the only surviving member of the squad which was promoted to the fifth tier after Lee Gregory's winner against Brackley Town in 2013.
Fittingly enough, McManus was central to one of the proudest moments of FC Halifax Town's history, lobbing Jamie McKeown in Grimsby Town's goal and sending the 10,000 strong Shaymen faithful into raptures in the FA Cup final at Wembley in May 2016.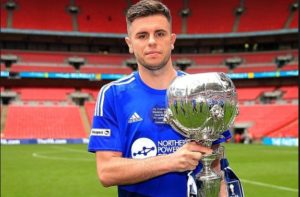 The last goal scored by the popular defender, ironically came during a stint at left midfield when Josh Wilde slotted in on the left of the back four. He scored the second in what turned out to be Billy Heath's last win as Halifax boss in a 4-0 win over Chester FC in December.
Although he played a somewhat reduced role this season, McManus still featured in 36 of the 46 National League games across the left-side, as well as stints at centre-half.
Versatility is the epitome of McManus' character, a fantastic servant to the club, he's done so with class, professionalism and passion. Everything a fan would ask for from their player.
That goal against Grimsby will remain etched in every Town fan's memory. From everybody at Halifax, Scott is wished all the best for his future endeavours.
Thanks for the memories and good luck with your new chapter.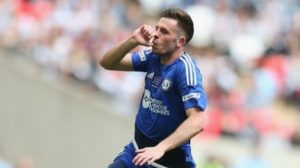 Read more posts by FC Halifax Town