FC Halifax Town manager Billy Heath believes that the side must learn from their 1-4 defeat against Maidenhead United in the second round of the FA Trophy.
The Shaymen got off to a flying start as Matty Kosylo found the back of the net within the first minute of the cup tie. Town looked positive throughout the first half and had some good chances to increase their lead. The boss acknowledged the strong performance in the first 45 minutes.
"First half performance was very, very good we played really, really well. We played some good stuff and really should have been out of sight." He said.
"We got the goal early and then we had two really good chances with Hibbsy (Jake Hibbs) and Garns (Scott Garner). We are disappointed with the goal, right on half time. We must learn lessons from that.
"When you're right on half time the wide players should have dropped in little deeper and protected it a little bit… We just needed to be a bit more disciplined." He added.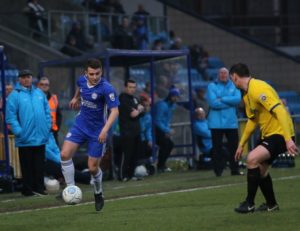 The second half performance wasn't quite as strong as the first and Town conceded a further three goals which sealed the result for maidenhead. Heath believes the goals were given away too easily.
"The second half was disappointing because of the three goals we conceded and the way we conceded, they were very cheap goals."
Kosylo, who returned from injury in Town's last league outing against Maidenhead just seven days ago began to show signs the he is returning to full fitness, but the gaffer believes that there is still more to come from the winger.
"He's still a long way off, we aren't piling massive pressure onto Kossy (Matty Kosylo) because he's scored again but is still a long way off from where he was.
"You can see that the sharpness isn't there, but we'll keep giving him game time to get that sharpness up and obviously, he's an important player." He said.
There were controversial penalty shouts at both ends of the field and Heath spoke succinctly and generally about the incidents.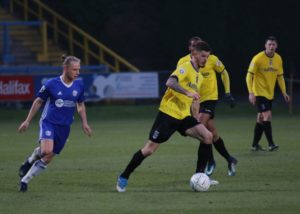 "It makes no difference what my view is, it's up to the man in the middle."
Looking ahead to the rest of the season, the side can now focus fully on the National League and welcome Leyton Orient to The Shay next time out.
"It's a big game, every game is a big game, we've just got to pick some league points up now.
"Massive game against Leyton Orient down here, we've got to start winning home games and take care of ourselves and nobody else. He said.
The Town squad has been depleted of late with several contributing factors such as injuries, illness and departures and Heath believes that increasing squad depth will be key for the rest of the season.
"We need to get players back, it was disappointing today to lose two players. Michael Collins, we lost this morning to illness… and Cliff Moyo has had the birth and didn't get home from hospital until late.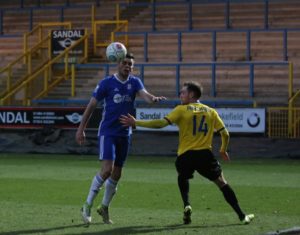 "We need to add to the squad as well, the squad is nowhere near big enough. Today we had 14 first-team players, we've got to add to the squad." He said
When asked if new signings were a certainty in the coming weeks Heath spoke about the necessity for the club to bring in additional faces.
He said, "We have to get players in, it's not an 'if', it has to happen. We have our targets and it has to happen."
Earlier this week, Adam Morgan left The Shaymen for Irish side, Sligo Rovers. Heath spoke honestly about the forward and hopes that the move will be a success for Morgan.
"He wanted to play every match and that's not something that we could envisage, week in, week out.
"Morgs (Adam Morgan) is a great lad, he has his troubles but he's a good lad and we wish him well." The manager said.
George Waring also returned to his parent club Tranmere Rovers this week following the conclusion of his loan deal with Town. Heath said that it is unlikely that Waring will return to the club in the future.
He said, "I think the main thing with George is that he's looking for another full-time club, so I don't think that's going to go anywhere."
To watch the full interview with the boss and to see more post-match reaction such as interviews with Danny Clarke and Shiraz Khan, head over to Shaymen TV.
Read more posts by FC Halifax Town