Christmas is a time for sharing and this year FC Halifax Town would like to invite local charities/those in need to come and have a complimentary Christmas Lunch on 18th December 2018 from 12.15pm. If you're a local charity and would like to benefit from this experience then please get in touch via email at community@fchalifaxtown.com.
Is this invite open to me? 
If you're an employee, a volunteer or you're being supported by a Calderdale Charity then please contact us as we'd love to share Christmas lunch with you at the MBi Shay Stadium.
How do I secure my place(s)?
Simply email community@fchalifaxtown.com – we'll work on a first come first served basis. (We have 200 places available) Please ensure you give your name, how many places you'd require and a contact telephone – we will respond to confirm your booking.
FC Halifax Town is proud to support the local community and recognises those individuals who dedicate there time in helping others through difficult periods. We also understand Christmas can create increased hardship for some. . .so we really hope you'll join us for some Festive Fun.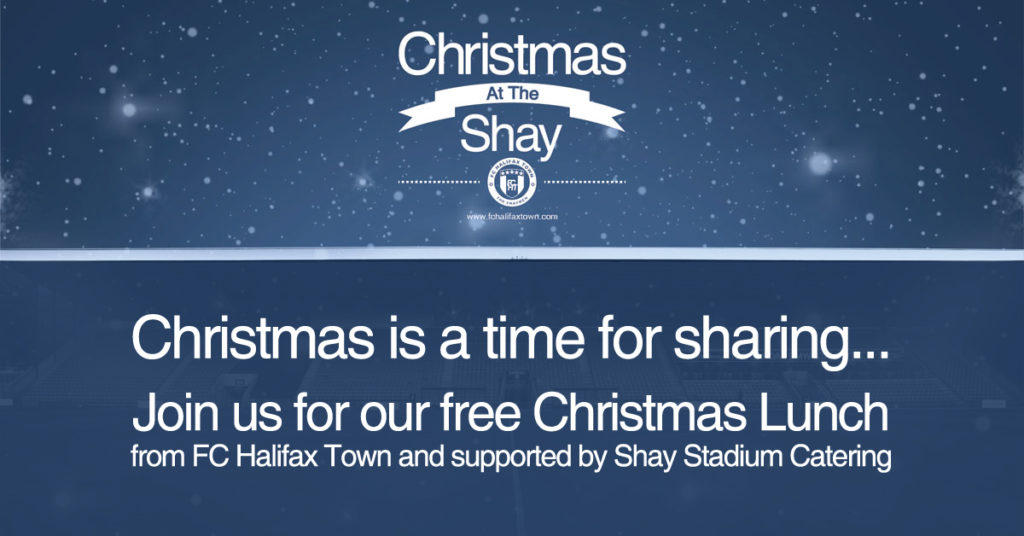 Read more posts by FC Halifax Town