New FC Halifax Town signing Shaun Tuton believes he will hit the ground running and bring back to the fans what they were used to seeing from him.
Tuton joined Halifax from Barnsley on loan until the end of the 2017/18 season last weekend, re-joining the club following a one season stint with the club between 2015 and 2016.
"I just need to go and play some games," said Tuton. "I have some stuff to bring to the fans that were sad to see me go and hopefully I can score some goals."
Since the forward's move to Barnsley in 2016, Town have still got many of the players from when he was last at the MBi Shay Stadium which he thinks will help him settle in.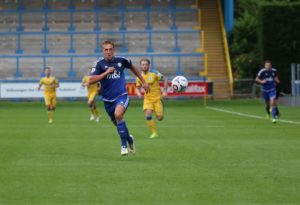 "I already knew a few of players that are still there, and I also know some of the players that have signed since whilst I haven't been there." Tuton continued.
"I have not been playing much at Barnsley, so I am well rested and have settled into the team as well as I could have done."
"It's always easier when you go into a club when you know the players and surroundings. I fit in pretty well and it felt like I had not left to be honest as everyone made me feel welcome into the group."
The 26-year-old admitted that he was delighted when the offer come in for him and said that he just wanted to get the move done as soon as possible.
"I went into training at Barnsley one morning and the gaffer asked me about going out on loan, and told me that Halifax have come in for me," he added. "I definitely knew I wanted to come when I heard that they wanted me back."
"I wanted to desperately get it done so that I was in the squad for Saturday which unfortunately was called off."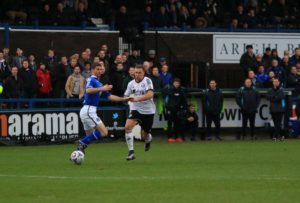 Tuton believes that he is fit and ready to go from the start against Bromley, but also thinks that manager Billy Heath will do what is beneficial to him.
"It is up to the gaffer and how he wants to play, whether he wants to bring me straight in."
"Personally, I feel that I would be ready to play straight away because, although I have not played as much, I have been training every day, I have looked after myself and the sharpness is still there."
Tuton will have his own target to score goals but seriously believes that if the team continue to show passion and desire, to get near the play-off positions is not an impossible task.
"When it starts to get to these stages in the season, we want to get as many points on the board that we can, so that we can push ourselves up the table and go towards the play-offs if possible.
"Which I don't think is miles away."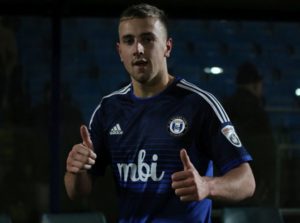 After the unfortunate circumstances which seen the Leyton Orient game postponed, which has now been rescheduled for Tuesday 30th January, Tuton thinks that if the team can get a positive result down south on Saturday, it can only help them for the match against the O's!
"With the game being rescheduled from Saturday to next Tuesday, if we can get a win away from home against Bromley, it will give us the confidence to go and get a positive result in the home game on Tuesday."
Tuton spoke about his new team-mates and how they act depending on the situation facing them, they know when it is time to concentrate and get on with the football.
"Since I have joined training, it is a very good group of players. The players they will have a laugh and joke but at the same time they know when it is time to be serious and work hard. There is a lot of passion and will to win in the team."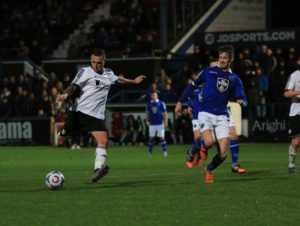 Tuton believes that he can return to his scoring form in front of a crowd that he loves and did not mean any hurt to the fans when he moved to Barnsley.
"I am not sure it is much to prove to the fans, when I got my offer from Barnsley, a lot of people thought I went about it in the wrong way. I was flying and scoring goals." The striker said.
"I had started from the bottom and worked myself up the leagues so when a move like that comes to a player like myself, it was something that anyone in that situation would have jumped at."
The Sheffield born centre forward wants to come into the side and help the team regain the form that they had at the start of the season.
"It was not something I meant to do, I did not want to leave the club in a bad way. I had such a good time here, scoring goals and everything, the fans loved me. he said.
"So, I think that it is about me coming in, picking up where I left off, scoring goals and helping Halifax move up the table." Tuton added.
"It is always nice to be at a club where you don't have to move away from home when you go out on loan. When I got the move to Halifax, I knew that I would not have any problems because it is somewhere I have been before."
Read more posts by FC Halifax Town