Going into the match at home to Maidenhead United this weekend, FC Halifax Town manager Billy Heath is full of optimism that his side can carry on what they have started in the Vanarama National League this season.
"I think that we have had some really good results of late and the confidence is building and we go into the game full of confidence and why not after such a good run of results."
Town have been extremely unlucky with injuries this season and Billy is only realistically hoping that one of his players can be back for the visit of Maidenhead who got promoted from National League South last season.
"Cliff Moyo could be in contention but I would say that Cliff is the only realistic aim, Nathan Hotte went off with a slight groin injury so maybe him but I would say just Cliff at this point.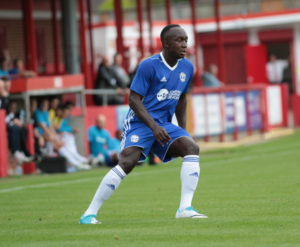 During the week that the team didn't have a game, Billy Heath worked on the fitness regime in training and made sure that everyone was up to speed.
"We have to keep the players fitness in sessions when we haven't had that mid-week game . keeping the players who haven't had as much minutes in shape.
"We have focused on our strengths and where we can capitalise on maidenheads weaknesses"
A lot of the way a Billy Heath side focuses on not just the opponent's weakness but Town's strengths and this is what has brought a positive run of results.
"The first part of our game is to stop the other team playing. That is done by hard work and stopping the other team playing."
"We do work hard and we do need to look at their weaknesses but we do have to focus on how we play and how we will stop them playing."
"We are a close nit side, we were able to keep most of the team that we came up with but results are paramount, we have drawn a few but we have been on a good run and we would like to continue that."
Can you make it to the game this weekend? Come and support the Shaymen as they look to stretch the unbeaten run to five games and push on from the AFC Fylde victory last time out.
Read more posts by FC Halifax Town