FC Halifax Town lost 2-0 at home to Yeovil Town yesterday, we caught up with goalkeeper Sam Johnson for his thoughts on the game.
Q- Overall thoughts on the game?
"Disappointed. I don't think we deserved to win the game, they were the better team. They pressed us high, we got what we deserved in the end and it's disappointing, especially when there's a crowd here
Q- Nothing really went our way today, why do you think that was?
"That's football, there's gonna be games where it happens to us, we just didn't get the rub of the green today, second balls kept bouncing to them and decisions kept going their way but that's football and we've got to react better to it."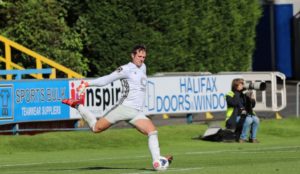 Q- Today you made your 166th appearance for the club and made it into the top 5 appearance makers for Town, how does feel?
"It's great. I love playing for this club, I'm looking forward to another two years here and realistically, I want to break the record and make the most appearances for them."
Q- The busy start to the season is over and to we now go back to playing mainly Saturdays, will that have an effect on the squad?
"I think it's massive, I think there's a few tired legs out there, especially in the back four, that have played every minute. He's rotated the strikers a bit but we're looking forward to having a bit of a break, especially in the week where you can just rest your legs a bit, hopefully get a bit more training in on the tactical side as well and hopefully that'll see us in good stead."
Q- Do you think the side missed the influence of Matty Brown in the back line today?
"Browny's one hell of a player for us and he's immense every single game but Staunts has come in and been absolutely class, he's a very, very good player and Clarkey is too obviously. There's no denying that Browny's a miss, but would it have made a difference, possibly, but the result's a two goal deficit."
Watch the full interview on Shaymen TV
Read more posts by Lewis Tomlinson