Following FC Halifax Town's 2-1 win over Woking, manager Pete Wild spoke to Shaymen TV to give his thoughts on the game.
"It was certainly a battle," Wild said. "They were very physical and we knew they would be. They did everything they could to try and get in the referee's ear and they were very successful at that. It was a really tough afternoon's work."
Matt Warburton opened the scoring from the penalty spot after a period where neither side created much of note.
"A clear penalty, he's hand-balled it," Wild told Shaymen TV. "I think it settled us down so I'm really glad we scored early. It's about time we scored early which helps settle the nerves down. They threw a lot at us today, they couldn't have thrown much more really, and for once luck is on our side."
Sam Johnson pulled out an incredible performance to end the game making multiple crucial saves at the death.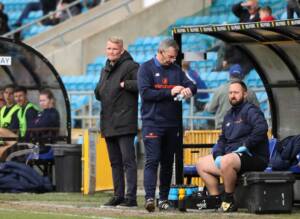 "He's unbelievable," Wild said. "He's made so many important saves today. He's said to me over the past couple of games that he sometimes feels he hasn't done anything but I've always told him we will need him at some point. We've needed him in abundance today and the big man has come up smelling of roses, so I'm dead pleased."
Town travel to Altrincham next Friday to kick off the Easter weekend before hosting Chesterfield on Monday.
"It'll be another great contest," Wild told Shaymen TV. "It was a great game against them here earlier this season. We've got to go there and express ourselves. I'm sure they are looking at us wanting to get one over on us. But we'll prepare right, we've got a lot of food for thought, we're really excited about the Easter weekend and we go into the game in good form."
Watch the full interview on Shaymen TV.
Read more posts by Luke Davis