FC Halifax Town lost out 2-1 to Torquay United, centre back Tom Bradbury spoke to ShaymenTV after the match.
Bradbury began the interview by giving his thoughts on the game, saying; "It's a frustrating one, we weren't good enough – especially in that first half. Think we sat off them and did not get tight enough; we were not picking up second balls. Then near the end we sort of got back into it and started picking up the ball and got higher up the pitch.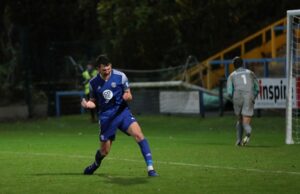 "We then came out for the second half and scored the goal, but the gaffer just said it in there now; we then sat off them and did what we were doing in the first half. So, it is frustrating, and as much of a cliché it is, we will get our heads down and come back in on Monday morning and put it right next Saturday."
After going a goal down the Shaymen did pull a goal back before being pegged towards a 2-1 loss, Bradbury commented on the vibe and feelings around the pitch during the changes in the game.
"We're always digging in and hoping we can get one more chance. I did think we had some chances at 1-1 to go in front, and that then changes the game. But we have always got to have a never say die attitude – we have got to be better," stated Tom.
The centre half added on where the game was won and lost; "I think it's the same old story as we've had some chances and not taken them. Yes, we let in two goals and maybe we were not tight enough at the back, but for all their possession and counterattack play I did not think they were too much of a threat.
"It's hard to say, but I think we're still looking for the final piece in the final third – something that will click, and we will then start scoring goals. It's getting on now, so we will need to find it quick, but we are working hard on it and we will make sure we put it right."
The Shaymen currently occupy a bottom half place in the table, however, the 22-year-old defender stated, "It's definitely too early to look into things like that."
He added; "I mean just look at last year at who won the league and where they were this time last year. We know we are good enough in that dressing room. There's 38 games or so left, so I'd just put my hand up and say judge us at Christmas and January time – see where we are in the league and then start having a pop."
Bradbury joined the club in the summer from Yeovil Town, and he answered upon how he had felt his transition to club had gone so far, saying; "I've enjoyed it, obviously, I'm going to be dominated by thoughts on the game today so I can't be happy. Although personally I feel like I have done well and started off well – not conceded too many goals and been quite solid. So, on that department I am enjoying it, but I can't be too happy because we lost today."
Lastly, the interview ended with a preview ahead to the next game which is away against Sutton United.
"It's a must-win, it is early in the season, but we won't go there with any fear. I know they're up there in the league but there's no fear, it's a must-win, so let us go put it right and get the three points," explained Bradbury.
Find the full interview on ShaymenTV.
Read more posts by Rohit Bains