Following FC Halifax Town's narrow 2-1 loss at home to Torquay United, manager Pete Wild spoke to Shaymen TV to give his thoughts on the game, the number of chances, Jamie Allen's goal, and looking ahead to Sutton United.
"In recent weeks I've been praising the players," Wild said. "I can't do that today. We talked about not letting them get a foot hold in the game during the first half, but we had none of that. Both teams looked at one pace during the first half which really frustrated me as that was not the game plan. If we do not take our chances or do not have that quality in the final third, I cannot keep coming out here and saying we were unlucky. We were not unlucky today because we did not take our chances. Apart from when we scored and when we were on the front foot, after an earful from me at half time, I do not think we kept that impetus. We stopped, we sat off them and gave them far too much space. The goal was always coming for me which really frustrates me."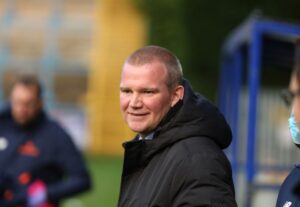 Town went 1-0 down in the 17th minute through Asa Hall. Wild was extremely disappointed to concede another early goal and felt that the Shaymen failed to make the visitors pay after creating several good chances.
"Again, it is a poor goal to concede," Wild told Shaymen TV. "Our chance after five minutes and their chance when they scored, the only difference is that they did score. They are the fine margins in football, but I am not going to keep backing them up if cannot take their chances. We looked great until the final third, even when we get crosses in the box but if you do not take those chances you are not going to win football matches. It's not as though we need to create any more chances, it is about having that composure and putting the ball in the back of the net."
Jamie Allen got his second goal this week after slotting the ball past Shaun MacDonald and finding the bottom corner. Wild was delighted for the forward but felt that goals need to come from everyone not just the strikers.
"Really pleased for Jamie Allen," Wild said. "It was really good from Jake Hyde to win the header; at times I've had a go at Jake for trying to buy fouls and to just do the simple thing. I thought that was his best half, the second half, he really did the simple things well which we need a bit more of. Then because of Jamie's industriousness, he was able to latch onto the ball and score. Hopefully, we can do that a bit better and we need goals to come from other parts of the pitch. We get into good areas and we get the ball into the box but unfortunately it just isn't falling for us."
The Shaymen travel to Sutton United next Saturday, Wild will be hoping Town can replicate the result from last season which saw Halifax come out 1-0 winners.
"It's a tough place to go and a tough pitch to play on," Wild told Shaymen TV. "They've had a great start to the season and the big games keep coming. Like I say, we will be fine, it is over a long season, we have had a tough run of fixtures, we are better off than we were from the same fixtures last season. We do need to start converting our chances. If we can convert our chances, we will be fine, if we do not, then we've got a problem."
Watch the full interview on Shaymen TV.
Read more posts by Luke Davis