FC Halifax Town lost to Torquay United yesterday, and defender Niall Maher spoke to Rohit Bains after the game.
Maher began the interview by giving his thoughts on the game, saying; "I thought we were slow at getting started and in the game, we were at our best for 20-25 minutes. It took us a bit of time to get going and that kills you at the end of the day."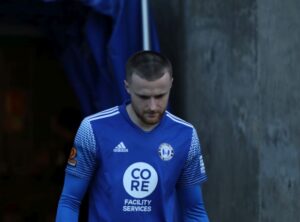 Niall added on the word around the dressing room when the side went in losing at half time; "We just had to believe in ourselves, and when we get into the final third we need to be more clinical. You cannot win games if you do not score, and today that is what Torquay did – they took two chances and we just took one. We're disappointed."
Jamie Allen pulled a goal back for the Shaymen to get the score to 1-1, and Maher commented on the importance of the goal. "I thought we could have had one or two in the first half, and Jamie did what he's best at – running in behind and getting to the end of balls. He got us back into the game and after I thought we could have got another one. At the end of the game, it was end-to-end, but they took their chance and won the game."
The Shaymen currently sit near the bottom end of the table, but Maher quoted; "It's always too early to look into it." He added; "You get a could get a run in this league and see yourself at the top end of the table. It is too early, and we do not look at the league table we just focus on ourselves. Then come the end of the season – we are the only ones who can blame ourselves on where we finish."
For the previous few games the defender has slotted in at right wing back, this is something the 25 year-old touched upon; "I've played there before in my younger times, and when I was growing up I was a right back or a right wing back. So, it is a position I am familiar with – it is not like I have just been thrown there and been asked to do a job. I enjoy it, I enjoy attacking and doing the other side of the game. It's a learning curve for me, and I'll learn and kick on for next time."
The Manchester lad ended the interview by previewing the next game away at Sutton United; "We've got to go there and win – take our chances and score goals, otherwise we aren't going to win games."
You can find the full interview on ShaymenTV.
Read more posts by Rohit Bains