We spoke to long term Halifax Town fan Dale Clement, who braved the needle to get a Halifax Town tattoo.
Let's start with your tattoo, can you tell us a little about it?
"Call it a midlife crisis, but I'm currently based in Middlesbrough and have been unable to get to many games.  I felt the world need to know my heritage, so having a tattoo on my leg was perfect!"
What's your first memories supporting the club?
"I've supported Halifax for 34 years, my first game was at the Shay, when we faced Accrington Stanley on New Year's Eve.
"I remember getting the 501 bus from Elland and stood on my own in the South Stand – it was freezing! Nevertheless I've been watching them ever since."
What has been your best memory supporting the Shaymen?
"There's a few! Obviously going to Wembley was a highlight and THAT McManus goal.
"Another great memory that sticks to mind is our Play-Off victory against Chorley.  The 97/98 season with super Geoff was also brilliant to watch… too many great memories!"
Your son seems to be following in your footsteps, and is already supporting the Shaymen?
"When my son was born, Danny Lowe and the rest of the 2012/13 team signed a shirt for him. His first game was a home defeat against Torquay.   I'm hoping to get down this season with both my boys."
Are you a long term FC Halifax Town supporter, then we'd love to hear your story.  Get in contact via our social media accounts.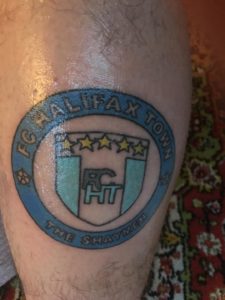 Read more posts by FC Halifax Town