Liam Nolan spoke to Shaymen TV following FC Halifax Town's 5-1 defeat away at Stockport.
"I think we got what we deserved, really. I think from the start they were better than us, they ran more than us. We just didn't turn up, it was poor from us and no excuses from us, we just weren't good enough today."
Nolan also said the mentality of the group was an important factor in turning the poor spell around;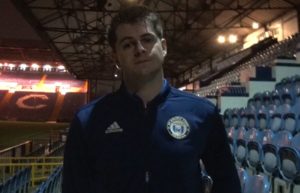 "The good thing about it is there's another game on Saturday that comes around really fast so it's a good chance for us, back in front of the home fans. They came out in numbers today, so we owe them one on Saturday after a result like that."
Regarding our next opponents, Nolan said;
"I think earlier in the season when we played them away, that was the best we've played all season in the first half, we went 3-0 up, so I think we've got to be looking to do that again at home. Our home form's not been brilliant, so it's a good opportunity to get back on track."
Nolan said Town would look to do "everything" differently when Stockport visit the Shay on New Year's Day.
"We owe them one, and when they come to The Shay, we'll all be well up for it, definitely."
Read more posts by Lewis Tomlinson