It was with great sadness that we at the club learned on Tuesday of the passing of Jim Smith, a player who served Halifax Town with distinction in the Sixties. He was 79 and had been suffering with illness for some time. Halifax Town was one of a number of lower league sides he played for before building a fine reputation in management, taking the helm at nine clubs and enjoying varying success. Affectionately known as 'Bald Eagle' later in his career, Smith was born in Sheffield on 17 October 1940 and after appearing for his local Oaksfield side,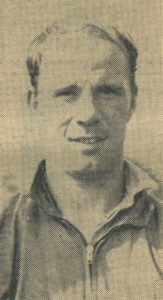 joined Sheffield United, originally as an amateur before turning professional in January 1959. Never destined to make the first team at Bramall Lane, Smith moved to Fourth Division Aldershot in July 1961. He made his league debut in the half-back line in a 2-1 defeat at Workington on 2 December 1961, and went on to become a first team regular, making 74 league appearances and scoring one goal. In July 1965 Smith was signed by Halifax Town boss Willie Watson and became something of a folk hero, the supporters warming to his no-nonsense approach and will to win. An automatic choice in the half-back line, he featured alongside players such as John Pickering, Dave Shawcross and Archie Taylor, who became a lifelong friend, and over the course of his first two seasons missed only two league games. Something of a character who always had time for the fans, Smith was known to enjoy a 'quick half' in a local hostelry before taking his place in the Town side, though no one could ever tell. He revelled in getting stuck in and driving the team forward, and wasn't afraid to have a pop at goal, managing seven goals in his time here. A member of the side which ran up a record 7-0 FA Cup win over Bishop Auckland in January 1967, Smith was also skipper and a scorer of two goals when the Shaymen defeated Bradford City 3-0 later that season to lift the West Riding Senior Cup. He served under Vic Metcalfe, and briefly, Alan Ball Snr, and first began coaching when taking charge of the juniors. It was Ball who transferred Smith to Lincoln City in March 1968 with 114 league appearances to his name in Town's colours, and he went on to serve the Imps for just over a year, making 54 league appearances. He then dropped into the Northern Premier League with Boston United in May 1969, cutting his teeth at football management. As player-manager, Smith did incredibly well, keeping the club near the top of the table during his time there and taking them to the third round of the FA Cup in 1971-72 before bowing out to Portsmouth. His achievements did not go unnoticed, though his appointment as Colchester United player-manager in October 1972 was something of a surprise. Boston had just undertaken a run of forty undefeated matches and having watched Colchester in action he knew he had a tough job on his hands. He described the team as 'awful' but the club's directors liked his honesty and full-time management appealed. Smith added a further eight league appearances to his tally before hanging up his boots but after Colchester had finished third from bottom of the Fourth Division in his first season, Smith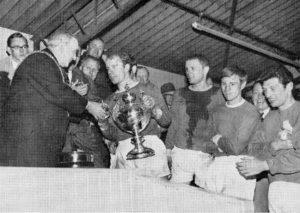 transformed their fortunes, guiding them to promotion in his second, and stabilising them in Division Three in his third. Then in June 1975, he left for Blackburn Rovers, improving their standing in the Second Division and leaving in March 1978 with the club on the fringes of the promotion race. He succeeded Sir Alf Ramsey as manager at First Division Birmingham City, though his first full season did not end well. He signed controversial Argentinian World Cup winner Alberto Tarantini, while the transfer of star player Trevor Francis to Nottingham Forest as the game's first £1m player did not help the Blues' relegation scrap. They duly went down, only for Smith to oversee their instant return. He remained at St Andrew's until dismissed to make way for Ron Saunders in February 1982, then resurfaced the following month at Oxford United. There, he had remarkable success, leading the club to successive championships as the U's reached the top flight for the first time in 1985. But a dispute with club chairman Robert Maxwell led to Smith leaving the club for Queen's Park Rangers, with whom he took to the League Cup Final in his first season, only to see his side lose 3-0, ironically, to Oxford. Smith gave QPR a fifth-place finish in the First Division in 1987-88 but midway through the following season he left to take over at Newcastle United, appointed in the hope he might avert their relegation. But the Magpies went down and just missed out on a swift return when they lost in the Second Division play-offs. After a spell coaching under Colin Todd at Middlesbrough, Smith was appointed manager of Portsmouth in June 1991 and took them to the FA Cup semi-final in his first season, whilst the following term the side just missed out on promotion to the Premier League in the play-offs. Dismissed in January 1995, Smith returned to management the following June with Derby County, and with Steve McClaren as coach, led the Rams to the Premier League in his first full season. Derby would spend five seasons in the top flight under Smith before he resigned in October 2001, though he continued to work in football, assisting Roland Nilsson at Coventry City, then returning to Portsmouth as right-hand man to Harry Redknapp in 2002, helping them reach the Premier League in 2002-03. Smith later followed Redknapp to Southampton before taking up front-line management once more when he returned to Oxford United in March 2006. He failed to stave off relegation to the Conference National but the U's came close to an immediate return to the Football League, only to lose in the play-offs. In November 2007 Smith stood down as manager to concentrate on his role as a director, and made his last return to The Shay in March 2008, a happy one for him as Oxford won 3-0. He later acted as caretaker boss before being instrumental in appointing former Town supremo Chris Wilder as manager in December 2008, then stepped down from the board and into retirement the following year.
There is no doubting that Jim Smith gave a lot to football, one of the 'old school' type who made the transition into the modern game. With a real passion for the game, Smith was loved and respected by both players and supporters alike, and he was certainly one of those characters who were few and far between. He left an indelible mark on the game, and for that there can be no greater legacy.
Read more posts by Johnny Meynell