The Supporters Club Committee would like to advise everyone that an opportunity will exist prior to each home game up to and including Stockport on New Years Day for fans to kindly donate £10.00 to the above scheme and get your name(s) recorded on the 'Play The Squares' grid in each and every subsequent 2019/20 matchday programme.
There are now just 31 boxes remaining in this popular fund-raising scheme with all monies raised helping FCHT fund the various supplies needed in the physio room.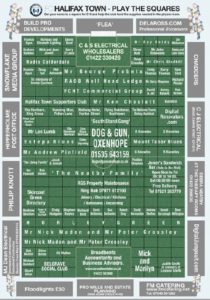 If you wish to participate – and we hope you will! – please see any of the matchday bucket collectors (South Stand and East Stand) and they will take your donation and ensure your details are entered on the grid.
Donations can be made on the day either in cash or by cheque payable to Halifax Town Supporters Club. If anyone prefers to pay by bank transfer, the relevant details will be provided on request. To donate by post, please initially e-mail roger_bottomley@hotmail.com and arrangements will be made.
As an incentive, once the grid has been fully completed, the names of all contributors will go into a 'hat' with the winner receiving an FCHT 2019/20 shirt.
The Supporters Club Committee thank you in anticipation of your support
Up the Shaymen!
Read more posts by Halifax Town Supporters Club