Pete Wild spoke to ShaymenTV after his side drew 1-1 with Notts County, read on for his views on the game, team selection and a look at future matches below.
Wild began the interview by giving his thoughts on the result; "I thought we played really well. There was a mistake for their goal, and we got caught on the wrong side which is disappointing. Apart from that, we dominated the whole football match, yes, they had one chance to make it 2-0 but we road that and did not let them have another shot in the game.
"We then dominated their half and kept the ball really well, but we do need to be better in the final third and take our chances – we can't create that many chances and not put them in the back of the net. I thought we were going to be the nearly men once again. So, to get the goal is the least we deserved this evening – I'm really pleased."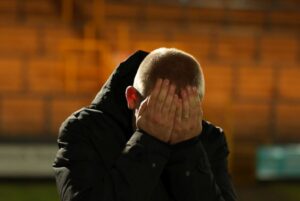 The gaffer added on what the plan was when the side were losing 1-0; "The plan was to keep going – push, push and push. We brought fresh legs on and I thought the lads who came on did well and started to get a hold of the football in their half. It was only a matter of time. Only two minutes before the goal Gevaro (Nepomuceno) should score. Sometimes in football you can try, try, and try, and it doesn't go your way, then it takes something just like that to get a bit of confidence and get what you deserve.
"Hopefully, that is a springboard for us to push on, like I say we are night and day from how we played last year, we're really good to watch. But we've got to be more clinical in the final third and that will be on the training ground making sure we are ready for Torquay on Saturday."
Wild then answered on how important Allen's goal really was; "It was massive, like I keep saying to people you need to stay away from league tables but it's only so long I can keep saying that. So, to play a team who comprehensively beat us home and away last year – to draw against them and be far the better side, it really pleases me. It shows progression and that our team is on the right track and if we stick together then we will be fine."
Notts County are arguably the biggest team in the league, so the question beckoned; how did the gaffer prepare coming into the game?
He answered; "I prepare like any other game, I said to the players we went toe-to-toe with Stockport and got beat by a worldie and we've got to go toe-to-toe with Notts County. I thought we went toe-to-toe with Notts County and were the better team – it shows progression and shows we have quality in our ranks. But we've got to start putting the ball into the back of the net and start taking our chances – then what a team we will be."
Coming into the game Wild had some selection decisions to make with Jeff King and Danny Williams out suspended, this was something the gaffer addressed, by saying; "We have strength in depth and have players who can fill in those positions. You have seen that today with Jack Senior doing me a job on the left and Niall Maher doing me a job on the right – that's strength and depth we have this year. I'm pleased lads are coming in and doing their bit and doing their job."
Wild added on new singing Neil Danns; "Dannsy will bring some extra quality to us, he's had COVID, so we're trying to get him to full speed and with a few more days on the training ground he'll be fine. He is still out here running on the pitch after the game, and for a bloke of 37 years of age who has been there and done it – that shows character and quality. It'll serve us well across the season."
The gaffer then focused on another player, this time in the shape of Gevaro Nepomuceno who renewed his one-month contract; "Gevaro is a quality player, and look how he's come back from Curacao – done a double session. It has made him fitter and I can see the change when he got back here – it is a different Gevaro – the one I met when I was at Oldham. He's one of many quality players in the group."
Lastly, Pete ended the interview by previewing Torquay on Saturday; "Got to go toe-to-toe with them, they'll be up there – the current leaders in the league. They've been to places like Hartlepool and won 5-0, so they're a threat in this league and another team who came here and beat us last season."
You can watch the full interview on ShaymenTV.
Read more posts by Rohit Bains