Following FC Halifax Town's 1-1 draw against Doncaster Rovers this evening, Josh MacDonald spoke to Kelly Gilchrist to give an update on his progress back to full fitness.
He said: "Obviously I've been out a long time. I'm just getting back into the swing of things. I trained the first eight days and then I got a little knock on my hamstring so I didn't train this week. Hopefully I'll be back in training on Thursday."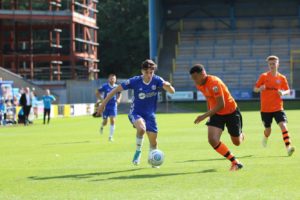 Macdonald missed the entirety of the 2018/19 season with a cruciate ligament injury. After 16 months intensive rehabilitation, Josh is finally back in training.
"I did my cruciate [ligament]. I had to have two operations, it's been a long time and I've been working hard on my rehab. So it's good to get back out there and back on it. Altogether it's been about 16 months. I did my knee the first time and then it was worse than we thought."
With the injury, MacDonald has had to watch his teammates perform most weeks. Watching his teammates he found it motivated him to come back stronger.
He said: "I've been working hard at home so the first few months I didn't really come to the games. But as I was getting more training I came to more games. To be fair it helped me, frustrating, but it helped get me working harder to get back out there."
An injury to the cruciate ligament can end a player's career. However, MacDonald has been working hard to ensure he comes back fully without risking another injury.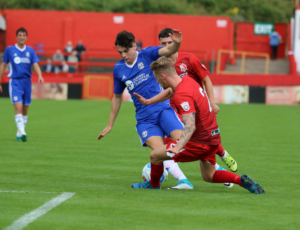 He said: "It's been tough. I've been doing a lot of leg work. But I don't mind working hard. It was all a learning curve really. Hopefully the hard work is behind me and I don't have any more problems."
MacDonald has finally been able to train properly with his teammates this preseason. The winger is aiming to get some game time on Saturday after training on Thursday and Friday.
He said: "I haven't played a game yet so I'm looking to hopefully train Thursday and Friday. Which will hopefully mean I get some minutes on Saturday. I don't know if I've maybe done too much with me being out so long. I've come back and I just want to get on."
Having been out 16 months, Josh has seen a lot of change within the team. The style of play has changed with the players and he is looking forward to see what comes next.
He said: "Obviously I've seen the style of play develop, and with what's happened it'll change again. But, we've got a good set of lads so it shouldn't be too hard."
Read more posts by Luke Davis