FC Halifax Town defender Scott Garner feels that his side were unlucky to concede a heavy defeat as the first game of 2018 saw Macclesfield Town beat the Shaymen for the second time in a week.
A hat-trick from Mitch Hancox and a goal from Scott Wilson meant that George Waring's second half strike was only a consolation, as the Silkmen ran out 4-1 winners at the MBi Shay Stadium.
The side currently sitting top of the Vanarama National League certainly showed why they will be looking to keep their place in the automatic promotion spot, although Garner believes that the score line does not match up with the way his side played.
"Obviously we are utterly disappointed but the one thing we have done is that we have dug in, stuck together and we never gave up. We played well in the first half and stuck to our game plan, then their goal came just before half time which could have been offside.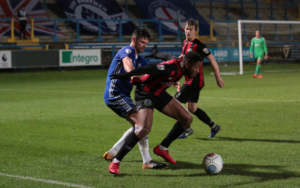 "Josh Wilde saw the line all the way across and he said it was, so it will be interesting to see it back. It is a big difference going into half time 1-0 down rather than at 0-0. They are a very good side, they move the ball around well. They are top for a reason.
"It does not feel like a 4-1 defeat with the way we played, there has been a lot of good individual performances. We played a side that has opened us up and they put it away when they had the chances… the first goal changed the game, but we kept going never gave up as always.
"There has been a lot of games in a few days and then some injuries as well, but we will keep our heads up and go again next game".
Garner, standing in as captain due to Matty Brown's absence through injury, along with the rest of the side seemed to shut out the Silkmen well during the first half, with very little created in the way of chances for the travelling side.
It took until the stroke of half time for the deadlock to be broken despite Town's best efforts to go into the break at 0-0, and Garner says he was pleased with how the tactics came into play throughout the side.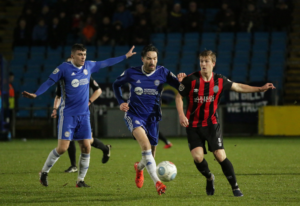 "I think Sam Johnson would say he did not have anything to do in the first half. We played a high line as well because we know they like to move the ball then spin it in-behind which went perfectly. We played really well in the first half, we minimised them in the way of chances".
For the Shaymen, the defeat is one that can be forgotten about quickly moving forward based on the positive first half performance, as this game ends what has been a busy few days for Town.
The four games in just under ten days would be the most brutal aspect of the Christmas period. However, Garner says that tiredness was not to blame for the New Year's Day defeat, and that there were times he felt the Shaymen were unlucky during the game.
"No, tiredness is not an excuse. We are all fit, energetic and looked after ourselves over the Christmas period.
"We would not let each other down like that so we have all gone into it today and we were flying in the first half by closing them down, keeping our shape and making tackles when needed so we are definitely not tired or anything like that. We would play again tomorrow if it was required.
"We took knocks and people had to pull out but that is no reason, we were just slightly unlucky in the way the game went. We applied ourselves right and we have come out of it on the wrong side today".
Head over to Shaymen TV to watch the full interview with Garner, along with more post-match reaction from Billy Heath and goal-scorer George Waring as well as the highlights from the game.
Read more posts by FC Halifax Town