We caught up with Director of Youth, Junior and Community Football, Steve Nichol to discuss the return of Ross Barrows, Marko Basic and Shiraz Khan following their recent spell away from the club on loan.
After a successful one-month loan to Frickley Athletic last season right-back, Ross Barrows made his first step into the National League North with North Ferriby United, whilst Marko Basic and Shiraz Khan enjoyed two-months with Mossley and Colne.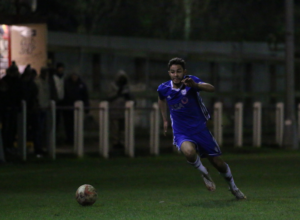 Speaking of the players return, Steve said: "This is a good time for the boys to be recalled, it is now an opportunity for Billy to see how they have progressed during their time away from the club.  Whatever the reasons for their return be that injury or suspension of first team players it presents an opportunity to move a step closer to our first team.
"All three players have enjoyed their loan spells and received excellent feedback from their respective managers and they have had a good allocation of game time.  They have all been challenged, Ross particularly who lost and regained his place in the North Ferriby team.  Marko experienced his first step into the senior game and whilst he received good game time it was hindered by being unavailable to Mossley in the FA Trophy.  Shiraz consolidated his development with consistent game time.
The process of loaning our younger players to lower league teams is important to aid the transition from youth team to senior football.  At youth team level it is clear we have good players and a successful programme, however the jump from youth team to first team is big.  The process of integrating those players showing promise is key to ensure they continue to progress towards the first team.
"Simply because a player is 19 or 20 years of age doesn't mean they should be knocking on the door of the first team.  Yes, they will have developed physically and emotionally, age is just a number, it is the pathway that gets them ready; the training and specifically game time at senior level.  It could be argued young players in the non-league game could progress quicker than many in professional clubs due to exposure in competitive senior football.
"Now these lads have returned to the club their progress can be reviewed in the first team environment.  The decisions made at this point can massively influence a young players career; are they progressing as hoped, what do they need to progress further, should they be dropped back into the youth team for a period of time, loaned out to another club or can they be used a substitute to gain experience?
"It is not easy; the process of successfully integrating players into the first team is something of an enigma.  Some countries excel in the process consistently producing elite players year after year.  There is no healthier way of strengthening a squad than an academy player making it through to the first team.  The question should be asked can a younger player, now or in the near future, fill one or two of the requirements needed by the first team manager instead of taking the easier option to bring tried and tested players from another club.  Should we get the pathway right then we can be confident many of our talented youth team players can fulfill their potential and bridge the gap towards the first team."
Read more posts by Steve Nichol