A series recalling some of the club's greatest-ever players.
BARKAS, Thomas
Inside Forward.
Born: South Shields, 27 March 1912.
Died: Halifax, 11 June 1991.
Height: 5ft 7in.
Weight: 10st 8lb.
Halifax Town debut: v Hartlepools United (h), Division Three (North), 15 December 1934. Won 4-1.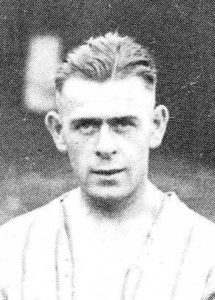 Career: Boldon Colliery; Hebburn Colliery; Washington Colliery; Bradford City 29 September 1932; Halifax Town 14 December 1934; York City wartime guest 1939-40; Stockport County wartime guest September 1944, April 1945; Huddersfield Town wartime guest May 1945; Hartlepools United wartime guest August 1945; Rochdale 10 September 1946 (£500); Stockport County 8 November 1947; Carlisle United February 1949; Scunthorpe United October 1949.
Tom Barkas was probably the most complete inside-forward seen in a Halifax Town shirt during the Thirties, a player who struck up an effective left-flank partnership with Fred Tunstall after arriving at the Shay from Bradford City in December 1934. One of five brothers who all played professional football, Tom followed the most famous of those, Sam, to Second Division Bradford City in September 1932 from Washington Colliery, but whilst Sam went on to win five England caps following his move to Manchester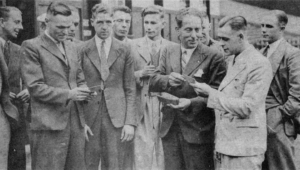 City, Tom spent the rest of his career in the lower divisions. He made his League debut alongside Sam in a 3-2 home defeat by Plymouth Argyle on 4 March 1933 but never managed to hold down a regular place in the Bantams' side. Over the course of three seasons at Valley Parade, Barkas managed only sixteen League appearances and two goals, the first of which helped secure a point in a 1-1 draw at Tottenham Hotspur on 8 April 1933. It was injuries to key forwards Albert Valentine and Tom Feeney which prompted Alex Raisbeck to bring Barkas to The Shay but having made the switch he became an automatic selection as Town made a bold bid for promotion during the 1934-35 season. Famed for his craft, powerful shooting, tremendous vision and the ability to play the slide-rule pass, Barkas created many goals for top scorer Valentine whilst weighing in with plenty himself. During 1936-37 he was second highest scorer with thirteen goals despite having been out of the team for two months following an appendix operation. Talks of a move to one of the top clubs were not without foundation, and, in fact, only Town's continued run in the FA Cup during 1938-39 prevented a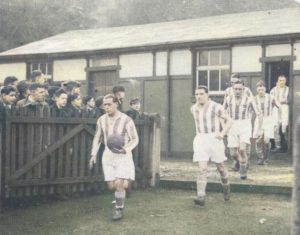 £1,500 move to Newcastle United. War broke out when Barkas was at the peak of his career; he joined the RAF and it was whilst serving with them that he was awarded the BEM for bravery shown during the German raids over Malta in March 1942. Barkas continued to play football with the RAF, and indeed, captained the side to trophy success in a wartime tournament on the island in September 1943 before returning to skipper Halifax Town the following February, helping them lift the Combined Counties Cup after two-legged victory over Huddersfield Town. In the 1946 close season he embarked on a coaching tour with the Norway FA but upon his return rejected new terms at The Shay and expressed his desire to find another club. With the return of League football Barkas joined Rochdale for a three-figure fee and having been made skipper by manager Ted Goodier, helped his new side rise the table to finish a lofty sixth. His seventeen goals that term included his first senior hat-trick in the 5-1 victory over Accrington Stanley on 24 May 1947. Barkas went on to make 44 League appearances for the Dale before moving to Stockport County, helping them reach the fourth round of the FA Cup in his first season. He went on to make 44 League appearances and score eighteen goals for County before ending his League career with Carlisle United, where he made fourteen League appearances and scored five goals. In total, Barkas made 287 League appearances for his five clubs and netted 77 goals. He ended his playing days with then non-league side Scunthorpe United, having the misfortune to break his leg following a challenge by Dave Mycock in a reserve match against Halifax Town in December 1949. Upon retiring from the game, Barkas, who had continued to live in Halifax, took up employment at Holdsworth Mills, then Meredith & Jones, and latterly worked as an assistant at Elland Crematorium and as a lollipop man.
 
League
FA Cup
NS CUP
WRSC
Wartime
Total
Apps
Gls
Apps
Gls
Apps
Gls
Apps
Gls
Apps
Gls
Apps
Gls
1934-35
24
5
0
0
3
0
0
0
0
0
27
5
1935-36
39
9
4
2
1
0
1
1
0
0
45
12
1936-37
34
13
0
0
0
0
1
0
0
0
35
13
1937-38
38
6
2
1
2
1
4
3
0
0
46
11
1938-39
34
3
6
0
0
0
2
0
0
0
42
3
1939-40
0
0
0
0
0
0
0
0
15
1
15
1
1940-41
0
0
0
0
0
0
0
0
26
11
26
11
1941-42
0
0
0
0
0
0
0
0
2
0
2
0
1943-44
0
0
0
0
0
0
0
0
11
4
11
4
1944-45
0
0
0
0
0
0
0
0
28
4
28
4
1945-46
0
0
2
2
0
0
0
0
24
6
26
8
 
169
36
14
5
6
1
8
4
106
26
303
72
Read more posts by Johnny Meynell