A series recalling some of the club's greatest-ever players
WILD, George Henry
Inside-forward.
Born: Sowerby Bridge, 31 August 1887.
Died: Halifax, 28 September 1970.
Height: 5ft 7in.
Weight: 10st 8lb.
Halifax Town debut: v Bradford City Reserves (a), Yorkshire Combination, 9 September 1911. Lost 2-6.
Career: Sowerby Bridge Church Institute; Halifax Town August 1911; Bradford City 31 December 1913; Halifax Town September 1914 to cs 1916; Bradford City 1916 to 1919; Birmingham City guest November 1916; Halifax Town August 1919 to cs 1924.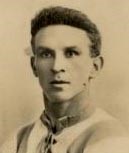 Was there ever a more popular selection for Halifax Town than that of George 'Judd' Wild when he took his place in the side for his Football League debut in the match at Wigan Borough in October 1921? After all, he'd only had to wait ten years for the opportunity, having appeared in the club's very first match at Bradford City Reserves in the Yorkshire Combination, the only player from that team to appear with Town in the Football League. There were some who reckoned Wild might have been too old – he was by then thirty-four years of age – but he did respond with a goal in the resulting 4-3 defeat and showed that he was far from finished, appearing in thirteen games that season and adding a further goal in Town's last win of the season at Accrington Stanley. Wild finished his Town career with 212 senior appearances to his name and an astonishing 97 goals, that after he had begun playing in local league circles for the successful Sowerby Bridge Church Institute, a club who also boasted a cricket side for which Wild turned out in the summer. Employed at the Sowerby Bridge Industrial Society as a gardener, Wild showed promise as a footballer at an early age, and enjoyed a memorable season in 1907-08, helping SBCI win the treble of Halifax & District League championship, the Halifax Charity Cup and Halifax Challenge Cup. Three years later he became a target for Halifax Town manager Joe McClelland, who was assembling his first squad of players, and having signed in August 1911, Wild took his place at outside-left when the side played its first match at Bradford City Reserves. Diminutive in size but with lightning pace, Wild, who played most of the season in his more natural inside-right position, ended Town's inaugural season as top scorer with twenty-five goals in all competitions, and with the club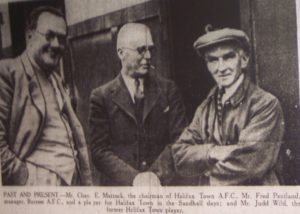 having transferred to the stronger Midland League for 1912-13, he continued to grab the headlines. Wild figured in that season's remarkable FA Cup run which ended with first round defeat at Queen's Park Rangers, and again the following season, leading the way with four of the club's record twelve goals scored in the defeat of West Vale Ramblers at the start of their cup run which ended at Norwich City in December 1913. But it was following that defeat by the Canaries that the club broke up the side, with Wild one of several players sold to Bradford City. But at Valley Parade his first team duty extended to just two games, for though he scored against Manchester United in his second match on 18 April 1914, Wild was never selected again. In September 1914 he made a welcome return to Sandhall but the war interrupted his career, and whilst remaining with the club throughout the season of the quickly assembled Midland Combination in 1915-16, Wild returned to Bradford City when Halifax Town closed down and made 28 wartime appearances, scoring nine goals. When Halifax Town reformed in 1919, with their base at Exley, Wild returned and was top scorer yet again. But during 1920-21, he lost his place in the side to Tom Stott and thus missed out on Town's first West Riding Senior Cup final appearance. Retained by Joe McClelland, however, Wild began the 1921-22 season in the reserves as Town embarked upon their first campaign in the Third Division (North). But with results proving disappointing, Wild was called up to the first team and enjoyed something of an Indian summer, even if the club ended up having to apply for re-election. Wild remained on the club's books over the course of the following two seasons whilst helping out trainer Bob Suter and in 1924 was awarded a benefit, with a Halifax Town team taking on a Judd Wild X1 on 29 April 1924. Wild continued to play local cricket, turning out for King Cross and then Lightcliffe, being a member of the side which joined the Bradford League in 1924. He had by then moved to that part of Halifax, and was employed as a motor driver or chauffer. In August 1961 Judd Wild and his wife Florence celebrated their fiftieth wedding anniversary.
League
Yorks Comb
Mid Lge
FA Cup
WRSC
WRJC
Charity
Wartime
Expunged
Total
Apps
Gls
Apps
Gls
Apps
Gls
Apps
Gls
Apps
Gls
Apps
Gls
Apps
Gls
Apps
Gls
Apps
Gls
Apps
Gls
1911-12
0
0
21
23
0
0
0
0
0
0
8
0
3
2
0
0
2
2
34
27
1912-13
0
0
0
0
33
14
7
2
1
0
0
0
0
0
0
0
0
0
41
16
1913-14
0
0
0
0
9
1
7
8
1
0
0
0
0
0
0
0
0
0
17
9
1914-15
0
0
0
0
33
10
1
0
1
0
0
0
0
0
0
0
0
0
35
10
1915-16
0
0
0
0
0
0
0
0
0
0
0
0
0
0
11
9
0
0
11
9
1919-20
0
0
0
0
25
12
2
2
1
0
0
0
0
0
0
0
0
0
28
14
1920-21
0
0
0
0
27
7
5
3
0
0
0
0
0
0
0
0
0
0
32
10
1921-22
13
2
0
0
0
0
0
0
1
0
0
0
0
0
0
0
0
0
14
2
13
2
21
23
127
44
22
15
5
0
8
0
3
2
11
9
2
2
212
97
Read more posts by Johnny Meynell