ALLSOP, William Henry
Right-back.
Born: Ripley, 29 January 1912.
Died: Halifax, 24 April 1997.
Height: 5ft 10in.
Weight: 11st 8lb.
Halifax Town Halifax Town debut: v Mansfield Town (h), Division Three (North), 25 August 1934. Won 2-1.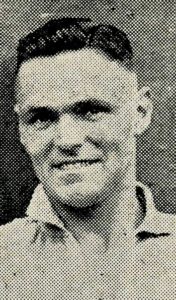 Career: Chesterfield district football; Ripley Wesleyans; Ripley Town 1930; Bolton Wanderers January 1931; Port Vale August 1931; Halifax Town 2 June 1934 to cs 1947. Bill Allsop played for Halifax Town before, during and after the Second World War, and made more appearances than any other player for the club. In total, he made a record 509, though of these, 234 were made during that wartime period. Allsop became a stalwart of the side, though prior to his arrival at The Shay, his career had been quite low key. After leaving Waingroves School in his native Ripley, Allsop joined Second Division Bolton Wanderers but failed to make the first team. Then, after joining Port Vale in August 1931, he was confined to the reserves for the most part, too, but finally made his League debut in a 2-0 victory at Bristol City on 16 January 1932. It was his only appearance that term and he would have only five further senior outings before he chanced his luck with the Shaymen. Signed by manager Alex Raisbeck, Allsop became an almost permanent fixture in the side over the next twelve seasons, establishing full-back partnerships with Jock Taylor, Alf Pope and Harold Jackson. Adept on either flank, Allsop helped the side to runners-up spot in his first season at The Shay, missed only eight games in his first five seasons with the club, and under manager Jimmy Thomson, was elected captain at the start of the
1937-38 season. Despite the outbreak of war in September 1939, Allsop continued to play for the club and completed a record run of 188 consecutive appearances when he played in the 7-0 defeat at Sheffield Wednesday on 14 April 1945, injury in that game forcing him to sit out the match at Bradford City the following week. His only goal for the club had come during that run, too, in a 3-2 defeat by Hartlepools United, a match played at West Hartlepool's ground on 11 November 1939. Although honours eluded Halifax Town for much of the time, Allsop was a member of the side which lifted the Combined Counties Cup after aggregate victory over Huddersfield Town in May 1944. Following the resumption of League football in August 1946, Allsop spent one more season at The Shay and made his last appearance for the club in the penultimate fixture, a 2-0 defeat at
York City on 26 May 1947. He hung up his boots but on 22 September 1947, in honour of his loyal service to the club over the course of thirteen seasons, Allsop was awarded a benefit match, when Halifax Town took on Allsop's select X1, with around 1,500 paying spectators seeing the first team defeat Allsop's side 4-1 in a game marred by driving rain. After football, Allsop ran Elite Taxis in Halifax, then joined United Biscuits in Ovenden, retiring as distribution depot manager in 1977. He retained his connections with Halifax Town, being a member of the Old Players' Association and continued to live in the Siddal area of the town until his death in April 1997.
League
FA Cup
NS Cup
WRSC
Wartime
Total
Apps
Gls
Apps
Gls
Apps
Gls
Apps
Gls
Apps
Gls
Apps
Gls
1934-35
36
0
2
0
3
0
1
0
0
0
42
0
1935-36
41
0
4
0
1
0
1
0
0
0
47
0
1936-37
42
0
1
0
1
0
1
0
0
0
45
0
1937-38
42
0
2
0
2
0
4
0
0
0
50
0
1938-39
41
0
6
0
2
0
2
0
0
0
49
0
1939-40
0
0
0
0
0
0
0
0
23
1
23
1
1940-41
0
0
0
0
0
0
0
0
32
0
32
0
1941-42
0
0
0
0
0
0
0
0
37
0
37
0
1942-43
0
0
0
0
0
0
0
0
36
0
36
0
1943-44
0
0
0
0
0
0
0
0
38
0
38
0
1944-45
0
0
0
0
0
0
0
0
35
0
35
0
1945-46
0
0
2
0
0
0
0
0
33
0
35
0
1946-47
37
0
3
0
0
0
0
0
0
0
40
0
239
0
20
0
7
0
9
0
234
1
509
1
Read more posts by Johnny Meynell