As part of the Football Foundation Return of Supporters fund FC Halifax Town Foundation have partnered Invictus Wellbeing to offer an innovative project which brings together football, mental health and community connection.
The project will specifically focus on young boys (14-17) from Calderdale, a demographic that is particularly vulnerable to poor mental health and wellbeing.  The project will look to bring a small group of young people together over a number of weeks to play 5-a-side but also to have key talks with mental health professionals.
The football and coaching will be led by FC Halifax Town Foundation and our professional coaching team whilst Invictus Wellbeing will provide its interventions through highly skilled and qualified mental health professionals.
We know that mental health can be a heavily stigmatised subject of conversation, particularly for young people.  The project aims to use football as the key to unlocking conversations around mental health.  It is our belief that football can be an effective tool and vehicle for building confidence, self-esteem, community cohesion, resilience and importantly for this project, opening conversations around mental health and wellbeing.
FC Halifax Town will also provide a free ticket for each participant so they can meet up, experience a game together and be part of the club at the heart of their community.
The sessions will take place on Wednesday 9th and Wednesday 16th February at The Shay Stadium, please follow the link below to register interest.
Game in Mind (FC Halifax Town) | Invictus Wellbeing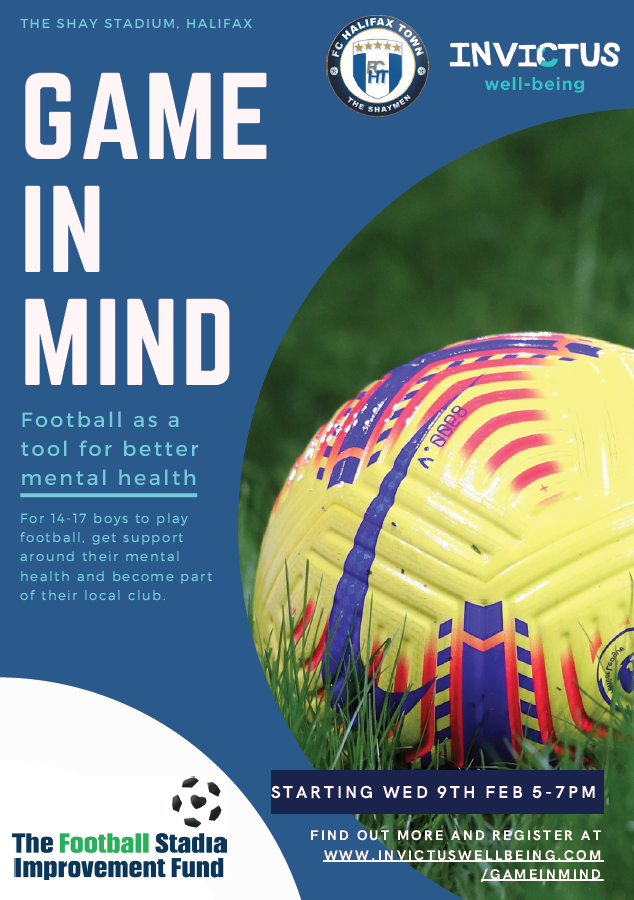 Read more posts by Kelly Gilchrist