FC Halifax Town Foundation have been awarded a grant from the National League Trust.
The non-profit arm of the Football Club has received a grant that will provide the financial support to consolidate and drive forward projects in the local community.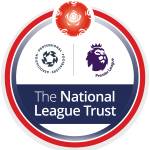 The National League Trust is a partnership between the National League, the Premier League and the Professional Footballers' Association Charity.  The Premier League and the PFA Charity have committed to support the Trust until 2025.
They will each contribute to a donation of £1.2 million a year over this period, this allows the National League Trust to help National League member clubs develop their community programmes.  The support comes in the form of grant aid and development advice with the ultimate ambition of encouraging clubs to become more involved in their community.
Head of Community, Junior and Youth Football Development, Steve Nichol commented: "We are thankful for the ongoing support received from The National League Trust and current sponsors, RSA, Megson Utilities and Grand central some of whom have continued to support the Foundation for a prolonged period.
"This grant will support a continued focus to increase participation levels, particularly girls (aged 7-15) and boys (aged 14-16) in the Calderdale community.  The funding will also support the delivery of healthy holiday camps which will run during school holidays and the delivery of the Adam Heslop and National League Trust U11 Schools Cup."
For further information about our programme contact; community@fchalifaxtown.com or click here 
Read more posts by Kelly Gilchrist