Would your child like extra football training over the summer holidays delivered by FC Halifax Town?
With support for the National League Trust and community sponsors, RSA we aim to build stronger links with grassroots football clubs and have partnered Crossleys, Greetland and Ryburn United to run an 'FC Halifax Town Summer Roadshow'.
Our coaching team will deliver a three-hour clinic at each club for the U6-U10 age groups where players will be encouraged to develop their technical skill; including the core skills of passing, receiving and moving with the ball in a fun and inclusive environment.  The sessions will also give players an insight into the FC Halifax Town coaching programme.  Please note all FC Halifax Town coaches are FA qualified and DBS checked.
The sessions will run as follows:
FC Halifax Town Summer Roadshow at Greetland Goldstars
Monday 21st August 2017, from 10am to 1pm
Boys and Girls in Y1, Y2, Y3 and Y4 from Sept 2017
Greetland Community Centre
£5 per player (50% of fee to Greetland)
FC Halifax Town Summer Roadshow at Crossley Juniors
Wednesday 23rd August 2017, from 10am to 1pm
Boys and Girls in Y1, Y2, Y3 and Y4 from Sept 2017
Illingworth Sports & Social Club
£5 per player (50% of fee to Crossley Jnrs)
FC Halifax Town Summer Roadshow at Ryburn United Juniors
Friday 25th August 2017, from 10am to 1pm
Boys and Girls in Y1, Y2, Y3 and Y4 from Sept 2017
Kebroyd Playing Fields
£5 per player (50% of fee to Ryburn)
These are open sessions to any player wishing to take part.  To register for a session or for further information contact community@fchalifaxtown.com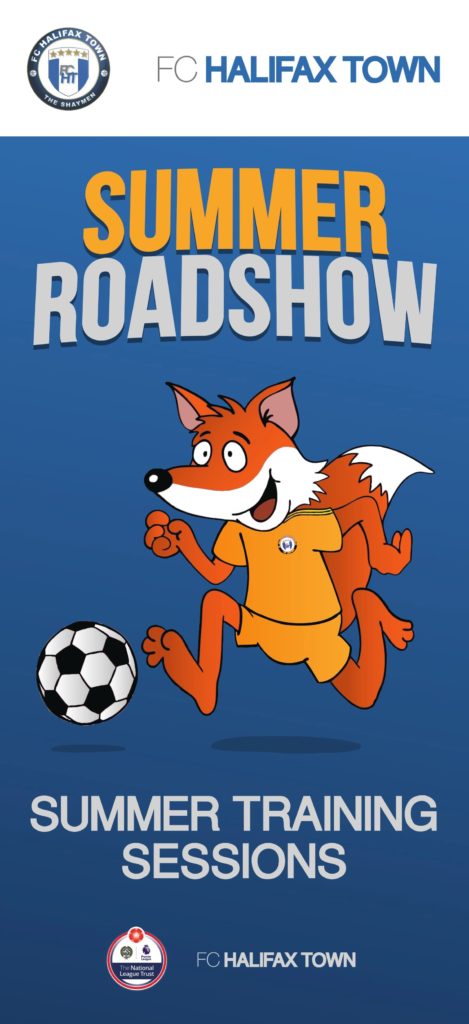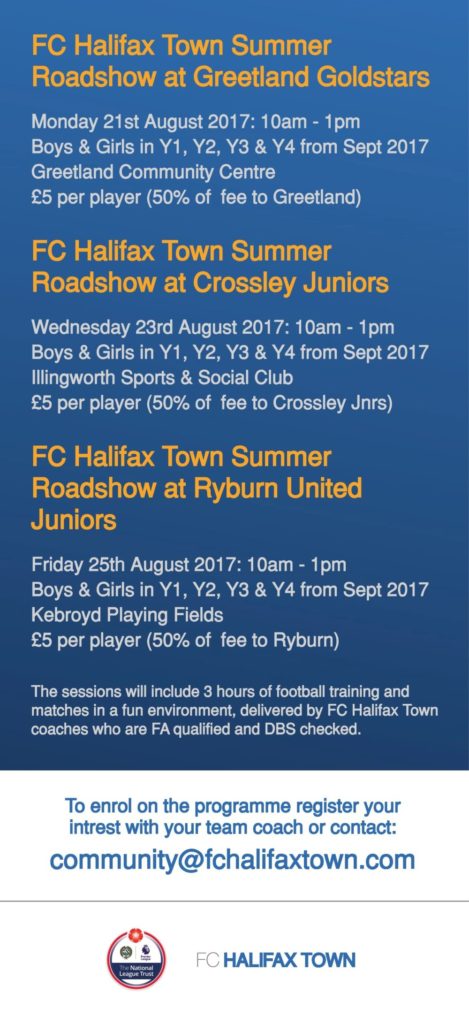 Read more posts by Steve Nichol