For FC Halifax Town, the last few weeks have been relatively busy to say the least thanks to congested fixtures and a lot of time spent on the road.
However, for Cliff Moyo, the New Year has seen his schedule skyrocket both on and off the pitch.
Earlier this month saw the birth of Moyo's baby boy Eden, as he became a Dad for the first time, and waved goodbye to any chances of a good night's sleep sometime soon.
As any parent would know, times like these are special not only for yourself, but to those around you. New parents are instantly surrounded with a fresh sense of joy and happiness, which is something that Moyo is certainly experiencing now.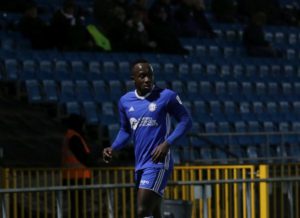 "It's amazing. It makes days like today feel a little bit better for when I get home. It is one of them, it's an amazing feeling that I cannot describe. You are always happy when someone else has got a baby but when it is your own then it is a different feeling.
"It is like a push to do it for him, and I know as soon as he is able to walk I will be taking him down to the field to practice a few skills."
So, by the sounds of it, we could have ourselves a future Shayman in the making. He even has the shirt to match his Dad's according to Moyo: "He has already got one actually, he is just waiting to grow into it."
Eden sounds like he was certainly worth the long wait of labour, although Moyo and his partner seemed to be having plenty of fun as they waited for Eden to arrive.
A video posted to his Instagram page showed the two performing a little dance in their hospital room. If you have not seen it, do not worry, as Moyo says that it could make a return on the pitch, but only on one condition.
"It was a little memorable moment that my Mrs and I had to do. If I do score, then the dance is coming. Me and Kozzy could do it, he has got long enough hair!"
There will be plenty of the Halifax faithful eager to see that one make an appearance, and Moyo can do so this weekend as Dagenham and Redbridge make the trip up north.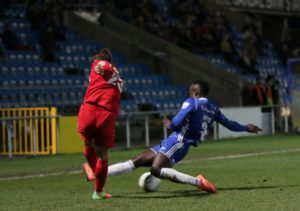 The Daggers are looking to get back to winning ways following three straight defeats in the league, with their last victory coming against Hartlepool United over three weeks ago. For Moyo, Saturday's task will be difficult, although it is coming at the right time.
"It will be a tough one, but I think we need the challenge because it is time to pull our socks up and work hard now to get the points on the board. It is not going to be easy. No game in this league is easy so we just must take the challenge as it comes.
"Obviously our goal for the end of the season is to stay in the league. We try to take each game as it comes because we do not like to look too far ahead to fixtures that aren't relevant yet."
Town themselves have not won a game in the league since the visit of Chester FC last month, losing four of the last six games since then.
Despite this, the players are nowhere near being short of confidence and optimism. They show a great sense of togetherness on the pitch, and Moyo says that this is important to push on in the right direction.
"We have our ups and downs, but we are a tight group. One of the main things is that we stick together, we do not fall out or anything like that. On the pitch we demand from each other, but we just have to take it to the next level now."
Read more posts by FC Halifax Town