FC Halifax Town midfielder Michael Collins insists that the dressing room is full of bravery as we approach another important game against Dagenham and Redbridge on Saturday at the Shay.
Billy Heath's side are currently on a poor run of form with just two wins in nineteen games, and are sitting just above the relegation zone.
"We are aware of the situation that we are in, there is a lot of experience in that dressing room. "Michael Collins told FCHT Online.
:"One thing that you need to do when you are fighting to stay in the division is to continue to be brave and fight for every game that you play."
"It is easy to go into your shell and people can hide, but I don't see that in this dressing room." he added.
The former Bradford City man believes that there is enough experience and motivation to beat the drop this season.
"We have people in there that have been in this position before and therefore know what it is like to be fighting against the drop." he said.
"I was in this position last year with Leyton Orient, it is hard and can be a downer but we just all need to keep our heads up and that is exactly what we are doing.
"We have good character in there, big men, leaders. The gaffer is a leader as well he will motivate us all." The midfielder added.
Going into another important game on the weekend, Collins reiterates that the opposition have problems of their own and will also be nervous.
"There is pressure on them, the good thing is that we are playing against a team that might be nervous too because they have to fight for something as well."
"I have seen this division, that it only takes a couple of wins to get back up that table."
"We know what we need to do, we will be in on Thursday for training, we will be right at it and prepare properly for the visit of Dagenham and Redbridge."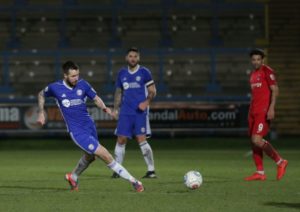 "We will sort out what their threats and strengths will be, and we will nullify them.
Collins, speaking after the defeat to Leyton Orient, knows that there is not a lot of difference between the quality of the sides in the division, and is confident going into every game.
"Across the board in the league, I don't see a massive difference of quality. We are confident going into every game, the important thing is not to panic. Collins said.
"If we had quite a lot of young lads in there then I might be a bit worried because they deal with things slightly differently, but we have a good set of lads and everyone has the same goal." he added.
The former Leyton Orient midfielder, still thinks that he is becoming fitter and stronger as each game goes by.
"The legs are there comfortably now.  In the last twenty minutes, I am starting to think that I have got what it takes to be in the team and to compete." Collins said.
Read more posts by FC Halifax Town