The Shaymen may have been defeated by Chesterfield and missed out on a National League play-off place, but it was a special day for Darren Stephenson as the Jamaican-born forward scored his first goal for the Club. 
Stephenson signed on a short-term loan from Vanarama National League North side Curzon Ashton and has been a part of several games for the Shaymen since. He scored his first goal for the Club yesterday afternoon and summed it by saying; "It was really good – I was watching Jeff King and I knew he was going to play it; he did, and I thought I'll pull out wide, take a touch and then roll the defender and put it inside."
Darren then gasped very loudly before adding; "The other defender rushed towards me but I bullied him and then I put it into the back of the net off the left peg. Whilst I was watching it, I thought I'm in here and I just watched it go in."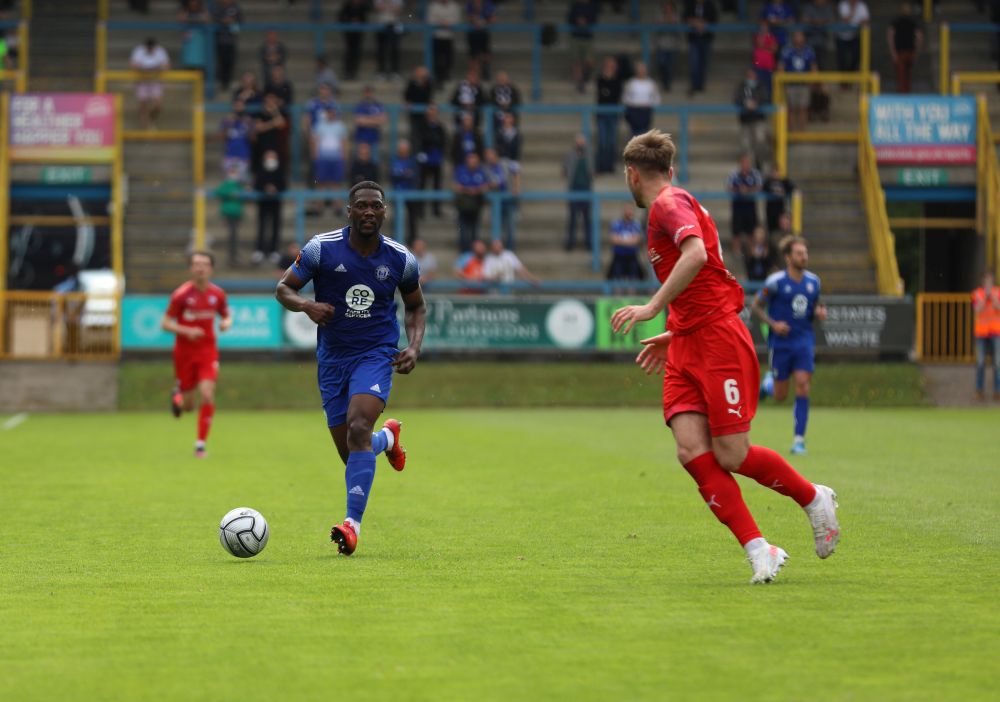 The forward ended his goal description by amusingly saying; "I gave the keeper the eyes and he came up to me and went, you just gave me the eyes, didn't you? And I said yes, yes I did!"
Darren later went on to speak about his time at the Shay, by stating, "My time here has been quite short, but I have really enjoyed it. All of the lads have really welcomed me and I've never felt like an outsider whilst being here, it has been a really good time."
The loanee's time at the Club is now over and will return to his parent club Curzon, however, Darren did comment on what may be happening next season and where things will go from now for himself.
He answered, "At the moment, it's all open and I couldn't even try to tell you what's going to happen for me next season. For now, I am going to let the dust settle and then take it from there and see what the plans are."
You can watch the FULL interview on SHAYMEN TV 
Read more posts by FC Halifax Town