FC Halifax Town drew 0-0 against Braintree Town at the MBI Shay Stadium with both sides short of quality on the day.
We spoke to manager Jamie Fullarton afterwards to get his thoughts on the game.
"The game was underwhelming, to say the least. I think some 0-0 draws, particularly ones that we've been involved in, can be exciting entertaining and the score doesn't reflect the game. But I think it would be understating it to say it was a bore draw. I'm bitterly disappointed. We can search for reasons or excuses but ultimately, individually we were under par, effectively we fell short and we huffed and puffed today."
Fullarton didn't want to make excuses for the poor display saying it was a disappointing game all around.
"Obviously, both teams have played 4 games in 10 days and with the quality of the game, it wasn't an advert for the National League to say the least. It definitely fell short of what we expect from our performance and that's individually and collectively. So, as you can see from my downbeat attitude or reaction it's just me being disappointed. But again, we move on and look forward to a game next week at home against Solihull Moors in the cup."
1302 fans turned up to watch the game. But there wasn't much to get excited about in the stands today.
"I don't think there was a single save to make. There weren't any 'ooos' from the crowd with no real chances or half chances where it could have been a goal on another day. It certainly wasn't one of them afternoons. People could say at times it was painful to watch, and that's both teams. As I said, it wasn't an advert for this league."
"We're always pleased when we don't concede, but we didn't have a shot on goal because it was a poor-quality game. If we focus more on what we are, we didn't create enough and a step off from what's expected, and that's disappointing."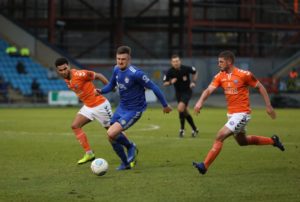 During the week, Scott Quigley signed on loan from Blackpool and Jacob Hanson signed a permanent contract at the club. The manager had his say on the effort to bring these two into the club.
"With the two signings of Jacob (Hanson) and Scott (Quigley), it hopefully gives an insight of what goes on behind the scenes with everyone involved and trying to progress and move things forward. It's pleasing to see both coming in, obviously, Jacob has been here on loan and it has been something we've been trying to tie up, so we're delighted to have got that across the line."
"I think when there is competition for such players, you've got to go that extra mile. When you're not in a financial way to blow them out the water, you've got to hit the motivational drivers in a different way and that's something we try to do with all players we look to bring in. Lots of the time, it doesn't come off, but with this one, it was time and energy well spent."
There was one main thing Fullarton was looking for Quigley to bring to the team for the rest of the season.
"Goals hopefully! He's come in today and we've looked to get him up to speed, to know how we play and how we work. I don't think he'll gain much from today because we underperformed and weren't as flowing when creating chances. We're looking to him to bring something different, but what we hope he will bring are assists and goals."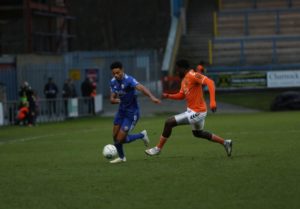 Ben Tomlinson was left out of the squad today, Fullarton told us why.
"Ben's played a lot of football, probably more than we would have liked and he's made a great contribution. But, with his knee injury, he's had a little reaction with it, it's been an overload with the number of games he's played in a short period more than I would've liked him to be involved in. But this reaction he had forced me to make the decision that he had to miss out today."
The Shaymen face Solihull Moors back at the MBI Shay next weekend in the FA Trophy.
"Obviously, Solihull Moors flying high. We got a 0-0 draw down there, which was a lot more exciting than today's game. We'll hopefully get back to the level which will allow us to perform well and progress in the cup through a very difficult but exciting game to look forward too."
"Every game, every competition we want to go as far as we can. Any competition we'll go out there, full strength to try and win and that will be no different next week."
Watch the full interview on Shaymen TV right now.
Read more posts by FC Halifax Town