SUTER, Ernest Robert
Goalkeeper.
Born: Epperstone, 10 July 1880.
Died: Halifax, 1 December 1945.
Height: 6ft 1in.
Weight: 13st.
Halifax Town debut: v Chesterfield Town (h), Midland League, 6 September 1913. Drew 0-0.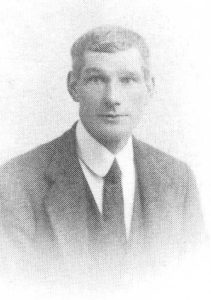 Career: Southwell Church Lads Brigade; Southwell St Mary's; Nottingham Park; Notts County 1898; Arnold Town November 1902; Newark Town cs 1903; Notts County May 1906; Goole Town August 1912; Halifax Town 6 June 1913; trainer July 1921, re-registered as player 20 April 1929, left club cs 1929, rejoined as trainer 10 June 1932 to cs 1933; Bradford City wartime guest September 1917; King Cross CBA groundsman.
Bob Suter was all things and more to Halifax Town during an association with the club that spanned twenty years; goalkeeper, trainer, coach, groundsman and general handyman. And though there is no record of him driving the club charabanc, he probably did that, too. Then in April 1929 Suter added another feather to his cap when he wrote himself into the record books as the oldest Englishman to appear in a Football League match. Injuries to regular first choice keepers Howard Mathews and Cliff Binns left the selection committee with a headache for the home match with South Shields on 20 April 1929, with Suter proving a willing hand and donning the keeper's jersey for the first of three first team outings that term, despite being in his 49th year. It was all somewhat ironic that Suter should still find himself playing first class football at such an age, for he spent the best part of six years in the reserves at Notts County whilst acting as understudy to the legendary Albert Iremonger, who continued to play until he himself was 43 years old. Suter had joined County as an eighteen-year-old in 1898 – before Iremonger signed for the club – and made his League debut in a 4-2 defeat at Derby County on 18 February 1899, the first of eight appearances he made that season. The following term Suter began as regular custodian and made 26 League appearances, sharing the goalkeeping duties with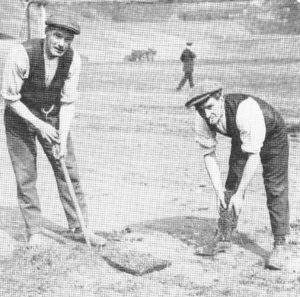 Harry Pennington. Suter appeared in the first two matches of the 1901-02 season before losing his place to Pennington, and having been restricted to just four appearances in two seasons he sought regular first team football elsewhere. He spent a season with Arnold Town in the Nottingham & District League, then enhanced his growing reputation with Newark Town, where he was regarded as the finest keeper in the Midland League. In May 1906, Suter rejoined Notts County, but Iremonger was then established in the first team, going on to make a club record 211 consecutive appearances and a total of 564 appearances over a span of twenty-one years. Suter made four League appearances during 1906-07 and made his last senior outing in a 2-2 draw with Port Vale in a second round FA Cup tie on 2 February 1907. The following October Suter suffered a knee injury which required surgery but he continued to serve the club until joining Goole Town in readiness for the 1912-13 season. He spent just the one season there, leaving after he failed to find employment – he was a driller by trade – in the Yorkshire port. Suter had been acting as groundsman to Goole Cricket Club and took up a similar position at Halifax Town, as well as cutting an imposing figure – he was thought to be the tallest keeper in the Midland League – between the sticks on matchday. Ever-present in his first season at Sandhall, Suter helped the side enjoy a good run in the FA Cup before they bowed out to Norwich City, and was a member of the victorious side which lifted the Bradford Charity Hospitals Cup following the 5-0 defeat of Scarborough in April 1914. The following season, he missed only one match due to the death of his mother, and again, in the hastily arranged Midland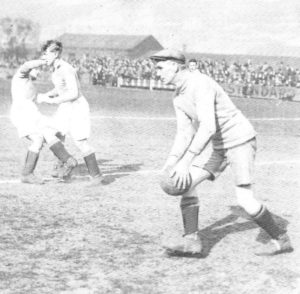 Combination in 1915-16, a season in which Suter was made captain, when he was ruled out for the match at Sheffield United on 11 December 1915 following an accident. Upon the return to peacetime football in 1919, Halifax Town were forced to move home and Suter was among the volunteers who helped shape the ground at Exley into something suitable. Similarly, when the club applied to join the Football League, Suter was one of many who toiled away to prepare The Shay into a football ground and acted as groundsman there. He had been first choice keeper in that first season after the war, but eventually gave way to Harry Jeffrey. However, by keeping himself active by playing in the reserves, Suter turned out on two occasions during Town's first season in the League but little did he think that seven years later he would be called upon again. He made three first team appearances during April 1929 – two League games and one in the West Riding Senior Cup, all within the space of five days – and was aged 48 years and 288 days when he took to the field for the last of those games, a 2-0 defeat at Darlington on 24 April 1929. But by the start of the following season, Suter had left the club, his departure coming out of the blue and considered something of a major shock. He continued to work as a groundsman at King Cross Cricket Club but returned to The Shay as trainer under Alex Raisbeck in June 1932 and monitored the progress of his son Robert junior, who acted as understudy to Watty Shirlaw. Suter snr left Halifax Town for a second time at the end of that campaign, returned as groundsman at King Cross CC and took up employment at tool makers Asquith's. The passing away of this popular fellow in December 1945, aged 65, was deeply felt by many.
League
Mid Lge
FA Cup
WRSC
Charity
Wartime
Total
Apps
Gls
Apps
Gls
Apps
Gls
Apps
Gls
Apps
Gls
Apps
Gls
Apps
Gls
1913-14
0
0
34
0
7
0
1
0
4
0
0
0
46
0
1914-15
0
0
37
0
1
0
1
0
0
0
0
0
39
0
1915-16
0
0
0
0
0
0
0
0
0
0
13
0
13
0
1919-20
0
0
33
0
2
0
1
0
0
0
0
0
36
0
1920-21
0
0
5
0
5
0
0
0
0
0
0
0
10
0
1921-22
2
0
0
0
0
0
0
0
0
0
0
0
2
0
1928-29
2
0
0
0
0
0
1
0
0
0
0
0
3
0
4
0
109
0
15
0
4
0
4
0
13
0
149
0
Read more posts by Johnny Meynell