FC Halifax Town striker Jamie Allen gave his thoughts to Shaymen TV following Town's 1-1 draw away at Aldershot Town yesterday.
"To be honest, we're disappointed. Obviously, we conceded early, which was really sloppy. We gave ourselves a mountain to climb within the first couple of minutes. I felt that the overall performance wasn't great, to be honest. We stuck together and we kept fighting, we worked hard for each other and we've come away with a point. We were probably unlucky not to get three points to be honest, we could've nicked it, but like I say, when you concede early on, it's always a difficult game."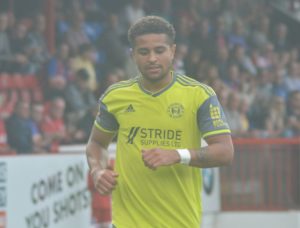 Allen said it was "pleasing" that the side showed the character to respond well after going behind so early.
"When we were 1-0 down, we knew it was gonna come anyway. We knew the lads were gonna keep at it, stick together, that was never gonna be a problem."
Allen had an entertaining match-long battle with the Aldershot left-back throughout the game, and said;
"Me and the full back had a good little duel going together, against each other. The fans were giving me a bit of stick, but I love that, I thrive off that, and it's always good to have a battle with your opposite number"
For the first time this season The Shaymen now have a midweek break before taking on Fylde at The Shay on Saturday. Allen said the squad would appreciate the recovery time before the next fixture after a busy start to the campaign.
"We're gonna have to get the rest in now because rest is obviously important. Fylde are gonna be a really tough test, we know that, so yeah, we're gonna rest up, we're gonna be prepared for Fylde."
Watch the full interview on Shaymen TV right now
Read more posts by Lewis Tomlinson