Following FC Halifax Town's 1-1 draw with Torquay United, Billy Heath was not afraid to admit that his side did not do enough of what he expects when he spoke to ShaymenTV post-match.
"I don't think that we deserved to win the game, the biggest disappointment is that we get ourselves in front and then don't see it out." The manager said.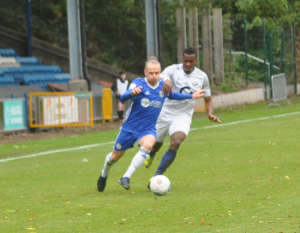 "We take the point, it is another point for where we need to be, slightly disappointing but it was a fair result." He added.
After taking a lead in the second half thanks to a George Waring debut goal, Town were not able to see out the game and Torquay equalised, Heath spoke about the fact that you need to concentrate form the first minute to the last.
"You know in this league that you need to be really at it in every game that you play. today we never really flowed, we never got any rhythm going." Heath said.
"I thought that it was an even game, there was patches where we had the play and patches where we didn't." Added a disappointed Billy Heath.
Heath believed that he could take positives out of the game, that being the point which could prove to be vital come the end of the season, and took the point and looks forward.
"Once you get in front, when things are flowing then you should be able to see the game out. But we managed to get something out of the game which is good."
Waring came into Heath's side this afternoon just ninety minutes before kick-off, having signed late on the Friday. That did not stop him putting in a man of the match performance, and his manager was not shy to congratulate the forward.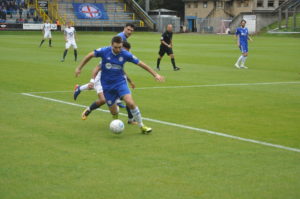 "It is difficult, he has not trained, the first time I met him was this morning. As for a debut, he was fantastic. Great all-round performance and he has topped it off with a goal." Heath said.
Matty Kosylo came straight back into the side after his one match suspension in the FA Cup last weekend. Heath believed that he offered something good to the side but believes that he was below par at times.
"'Kosy' came back in, I thought he did ok. He wasn't in his natural position, he has played there at sometimes this season. He did okay. He did look a bit rusty at times but he did ok."
Despite his neck related injury, Scott McManus was available for selection today, but one player who did not unfortunately feature was Josh McDonald. The midfielder suffered an injury in training in mid-week and was not able to be named as a substitute.
"It was so disappointing again, the last part of the training session he tweaked glute. We just get on with it. There is no point in complaining. It is really disappointing for josh because he is desperate to play."
Town, continue the 'purple patch' of the season as they now have gone five games without winning but Billy Heath spoke about it in a different way.
"" It is five games without a win but it also three games without a loss in three, it depends what way you want to look at it." Heath said.
You can catch the full interview as always on ShaymenTV as part of our exclusive content for subscription users.
Read more posts by FC Halifax Town