Good afternoon and welcome to today's Vanarama National League fixture
against Torquay.
I would like to give special mention all of our senior sponsors Northern
Power House Developments, GB Architectural, Dickies Tiles, Pennine
Pneumatic, Hanson Plywood, Integro and RSA. Our main sponsors all play a
crucial role with the club and I would encourage you to use the services
they offer whenever you can. Please mention your connection with the Club
when making contact.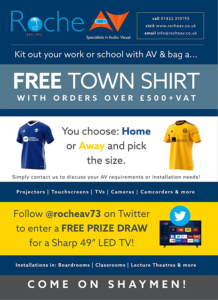 A very special welcome to our Match Sponsors today who are Roche.
Established in 1973, they have become one of the UKs leading specialists
in the supply and installation of audio visual presentation systems. Their
success is based on bulk purchasing policy. This enables Roche to get
extremely competitive pricing from their suppliers by taking in large
volumes of stock – something unique in the industry. Another unique
feature is their own in-house installations department. Avoiding reliance
on sub-contractors as their competitors do, Roche have their own CHAS
accredited Installation Engineers, Control System Programmers and Project
Managers ensuring a high quality of installation
I would like to say a massive thank you to all those who supported and
attended the annual FCHT Sporting Dinner – the night was a huge success
and special thanks to Paul Ramsden for hosting the evening along with our
magnificent guest speakers DR Kevin Jones and the voice of English
football – John Motson.
On Thursday 2nd November we will be holding a very special retail launch
at Harveys department store in Halifax – they evening is open to all and
we will be providing you with a sneak peek at our new retail area within
the store – there will also be some food and drink for you all to enjoy!
Please see our website for full details on the evening.
The festive period is upon us so if you'd like to watch the games over the
holiday period in style then we're offering the following dining packages
both from £15 for Children and £45 for Adults.
FC Halifax Town vs Chester FC 23 December 2017 – 'Our Festive Feast' a
three course Christmas Lunch, premium seating, match-day programme,
half-time tea and coffee and post-match presentations.
FC Halifax Town vs Macclesfield Town 1 January 2018 – 'Our New Year's
Lunch' a three course lunch, (no turkey in sight!) and guaranteed hearty
enough to cure any sore New Year's eve head, premium seating, match-day
programme, half-time tea and coffee and post-match presentations.
We'd suggest you book with me on (07967 349777) early as these dates will
be very popular.
We're off to a fantastic start with player sponsorships but we still need
the final few sponsorships so please check out Today's programme to see
who's still available. For just £200 you can sponsor a player home or away
for the season and benefit from your name in the programme each week along
with a special invitation to the end of season player awards where your
players shirt will be presented to you.
We've also had a great start to our programme feature "Play the Squares"
get your name or companies details in the programme for the season with
squares starting at just £10. This is another great way to support the
club and helps fund our physio and medical needs.
I am currently working on the fixture list and team poster so I'm on the
hunt is for people with companies and businesses. If you fancy getting
involved with this very popular feature then please get in touch ASAP.
The focus remains on Match Day Sponsorship and Hospitality! Thank you to
those who have already secured their dates and for anyone else who is
thinking about it please do get in touch with me direct! We currently have
16 full match sponsors booked in on various games so please see today's
programme for more info.
Being one of our match sponsors guarantees not only a great day or evening
out but the chance to either promote your business, use as a gift or maybe
for a celebration – whatever its purpose, our focus is on making sure you
and your guests have a memorable experience with us.
Mascot packages. . . Children have the chance to experience an
unforgettable day at The Shay. The package allows mascots to take a look
behind the scenes on a match day, and also gives them the opportunity to
meet their heroes… and yours! You can also enjoy a fantastic meal in our
banqueting suite. If you would like to book this package then again please
don't hesitate to contact us at the club office – we've a number of
options and prices ALL revenue is vital and helps towards covering
necessary but costly expenses that the club incurs daily. As you're
probably aware, the club works very hard on little off the field resource
to generate the income needed, so thank you to all new and existing
sponsors who have already supported us this season.
For more details on sponsorship or anything to support the club please
give me a call on 07967 949 777 or drop me a line at
benbottomley@fchalifaxtown.com
Thank you all for the continued support
Read more posts by Ben Bottomley