The Supporters Club Committee would like to sincerely thank the following fans who, on Saturday, successfully undertook an 18.5-mile trek from the MBI Shay Stadium to Guiseley: –
Stuart Alderson (a k a 'Freddy The Fox')
Roger Bottomley
Lee Catalonia
Daniel Hill
Nick Holland
Matt Ingram
Chris Neatby
Debra Neatby
It's fair to say that, at the start of the walk at 07:00 the conditions were very difficult indeed with snow falling and ice on certain roads. There was also, of course, no guarantee at that stage that the game would be on! Ultimately, the walkers were rewarded with better weather and, obviously, a match to watch!
Huge thanks to Phil Knott for organising every aspect of the walk including the much needed (!) pub break at the 'Noble Comb' near Saltaire.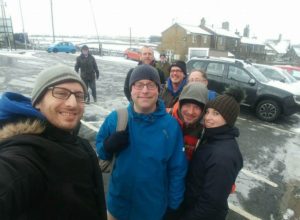 At this stage, the Supporters Club is not sure how much money will ultimately be raised but a special mention here to Rob Brown and Peter Noble who both kindly made particularly generous Sponsored Walk donations to the Supporters Club prior to kick-off at Guiseley. Post-match, Rob has made some very droll references to the Sponsored Walk in his latest customary excellent 'Travellers Tales' article. Well worth a read!
As Rob mentions in his piece, there is still time to sponsor the Supporters Club in respect of this initiative. Please donate either via the usual match day bucket collections or, alternatively, send a cheque payable to Halifax Town Supporters Club to: –
Roger Bottomley
4 Glen Lea
SOWERBY BRIDGE
HX6 2EY
There is also a facility to donate by bank transfer: –
HSBC, Halifax
40 23 05
92084201
HALIFAX TOWN SUPPORTERS CLUB
Please quote reference 'WALK'
Thank you in anticipation of your support – just to re-iterate all funds raised by the Supporters Club are ultimately passed over in their entirety to FC Halifax Town
Up the Shaymen!
Read more posts by Halifax Town Supporters Club