After FC Halifax Town's 1-1 draw against Notts County, Jack Senior spoke to Shaymen TV to give his thoughts on the game, conceding the early goal, the late equaliser, and Torquay United on Saturday.
"I'm coming away thinking it is the least we deserve," Senior said. "You look at the chances they have created, yeah they scored a clear-cut chance, it was a sloppy goal to concede. From then we got into some good chances, we hit the woodwork. I think if you look at the performance, we are getting in and around the box well and playing some decent stuff. I do not think we are too far off giving a team a hiding. You take a point after scoring last minute, it is a good feeling, it does feel more like a win and hopefully that can kick start us now."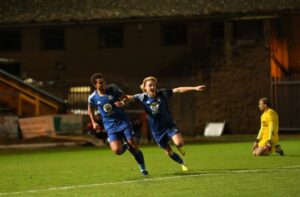 Elisha Sam scored for the visitors in the 6th minute. Senior was disappointed with the way the team conceded but felt it went against the run of the game for the most part.
"It was a sloppy goal," Senior told Shaymen TV. "We started well so to then concede puts us on the back foot. But thankfully we reacted well. We were positive and did not let our heads go down. As a team we stuck together and kept pushing, if you do that as a team, you get what you deserve."
Jamie Allen restored parity late in added time with a great finish past goalkeeper Sam Slocombe to give the Shaymen a well-earned point.
"That felt really nice," the defender said. "We were plugging away all game and a number of us had some chances. There were plenty of opportunities but to put it away in the last minute is a nice feeling."
Town face Torquay at home on Saturday at the Shay. Senior feels confident that the team can continue to create chances while maintaining the solid defence.
"They're obviously doing very well so far," Senior told Shaymen TV. "Our aim is to make this a tough place to come. Notts County have come here and yeah, they had a bit of the ball, but they did not create loads of chances, we did. We looked good at the back as well as creating chances so we'll look to stop them creating and hopefully we can kick start the season."
Watch the full interview on Shaymen TV.
Read more posts by Luke Davis