The saying 'all good things must come to an end' could not be more relevant to the life of a professional footballer.
For a lot of youngsters, the dream of growing up to play a hobby for a living is one that never manifests in most cases. Only a select few have the talent to make it in 'the beautiful game' and go on to form a successful career in the process.
Michael Collins is one of those few. The former Huddersfield Town and Scunthorpe United man has enjoyed his first few months in the Shaymen blue, cementing himself in the starting eleven and becoming an instant hit with the fans.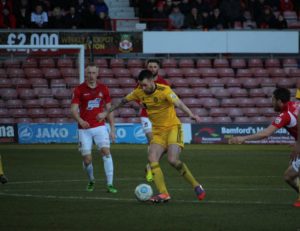 Although, as the saying goes, it is a career that cannot last forever, but Collins has always been aware of that. Having known about his future aspirations for a long time, the Bradford City Under-18s coach is planning to stick around the game in a new role once the curtain closes on his playing career.
"I did my B licence early then moved onto my A licence. Some footballers switch off when they walk away from the game, I have always been the opposite.
"I go home and think about the game or the session, like what we did and how it links to the game. As I got older I took more interest and started writing the details down and researching for my own stuff.
"All I'm doing is collecting my playing experiences and marrying them with the ideals that I see are important when playing and bring that over to the lads I work with at Bradford.
"If you are wanting to go into management and have longevity then go into youth football and learn about the ropes, the players and yourself. You have an environment where you can learn and take those experiences into management, rather than jumping in at the deep end.
"One is helping the other and vice versa, so whilst I'm playing I pick up things that can be used in the coaching, and by coaching I see things that can be used to help my game. It is working out perfectly for me."
Collins took the role at Bradford after leaving fellow Vanarama National League outfit Leyton Orient in the summer of last year, with his mind firmly set on making it in the coaching world.
He was given his chance to make it in the game with Huddersfield thirteen years ago, and now provides young footballers at Bradford with similar opportunities. It can have its ups and downs, but overall, Collins is more than happy to have such a valuable experience.
"Just this week at Bradford our goalkeeper, George Kenworthy, has been offered a two-year professional contract. That side of it is such a reward because you see these kids develop and go onto the next stage, there is no better feeling.
"On the flip side, there is ultimately lads that don't get through and you've got to be the one to deliver the news that, at this moment in time, their dream is over. That's not to say it is completely over, just at the club they currently play for.
"The most important thing, regardless of whether they get through or not, is that you teach them life skills like discipline and punctuality. Even if they don't make it in football you give them a chance to be successful in whatever they move into."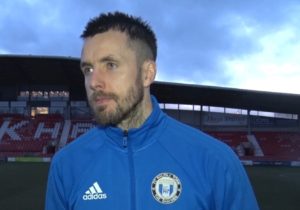 Stepping back onto the pitch, Collins and his Town teammates are preparing for their second game under new manager, Jamie Fullarton.
With the Sutton United game called off thanks to 'the Beast from the East', Fullarton's side have managed to work some more time on the training pitch. It means there is more time to get used to a new playing style and philosophy, something that Collins is personally happy about.
"Everybody has got different styles. That is the beauty of football. There is no 'one size fits all' because everyone has a slightly different way of doing things. Some coaches like to cover more tactically whereas overs like to keep it vague.
"For me, I prefer the details. So, with the new gaffer I am really enjoying the sessions and the depths he goes into regarding roles and responsibilities."
With Fullarton's home debut put on hold, the Shaymen now travel to Woking FC looking for a first win under new management. For Collins, with extra training under their belts, Town can be confident of claiming the three points in Surrey.
"From what I have seen of the league so far, there isn't too much in it. It is quite a level playing field as you can see from results up and down the country. We are no different. We've played the teams that are up there like Wrexham and Aldershot and we have more than held our own.
"The real differences are in the details and the clarity that a team has. The ones that are more drilled and understand their roles, such as where people need to be at any one time, can make the difference between winning and losing games.
"Every game is tough, we know that, and Woking will be no different. They have had a game midweek, so they could be a bit fatigued on Saturday, maybe we can capitalise on that with a full week's training under our belt."
Read more posts by FC Halifax Town