Shaymen fans: here's how you can make a huge difference to the MANarama campaign!
FC Halifax fans – as the team sitting top of the table you will have to excuse us if it appears we're making the most of the feel-good factor at your place right now!
We're around half way through this year's MANarama campaign – and yes, we've got a small favour to ask.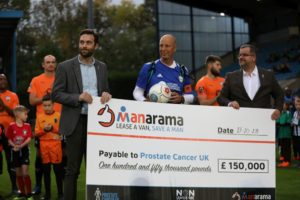 Naturally we can't possibly think of a better time to ride on those high spirits and ask you to extend the positivity to make a big difference!
As we're sure you would have heard by now, Vanarama, Motorama and The National League have once again teamed up together with the aim of raising another mega amount of cash for Prostate Cancer UK.
So it's high time we explained just how crucial your donation could be….and how simple it is for you to contribute to the cause.
The response has so far has been outstanding – but still we're being asked just how people can get involved.
Let us be clear on this one… it could not be any easier!
You can even forget online form-filling and time-consuming debit card details, it's actually as simple as firing off a quick text message.
Prostate cancer kills over 11,000 men every year – that's nearly one every 45 minutes. Your moment will be used to fund the research that will bring radical advances in diagnosis, prevention and support.
That, folks, is why #GiveAndGo is so important.
BT Sport pundit and former Barrow, Norwich City and Wigan striker Grant Holt told us: "It's always important to get involved and give Prostate Cancer UK the exposure they deserve. We try and do everything we can and the MANarama campaign is huge in helping to create awareness.
"The more people get involved, the more people support it is great but we've got to keep doing it and keep pushing it."
IT'S JUST ONE SIMPLE TEXT!
Getting involved with the MANarama campaign as we try to combat Prostate Cancer could not be more straightforward.
Give… donate to Prostate Cancer via text
Go… then bring others into play by sharing on social media with #GiveAndGo.
Donate by texting "MAN £10", "MAN £5" or "MAN £3" (depending on the amount you want to donate) to 70004 & help stop prostate cancer from being a killer. Texts costs £10, £5 or £3 plus network charge. Prostate Cancer UK receives 100% of your donation. Obtain bill payers permission. Customer care 0800 082 1616. Charity No 100554
FREE MINIBUS FOR YOUR CLUB
To say thank you to the incredible fans and clubs of The National League for supporting our MANarama campaign in aid of Prostate Cancer UK, we're giving a FREE minibus away to one club.
When your club hits £500 they go into the hat! Find your club's page here:
http://justgiving.com/campaign/Manarama
Massive thank you to the clubs that have raised the most so far.
For the latest van leasing deals head to Vanarama.
For the latest car leasing deals head to Motorama.
Read more posts by National League