A series recalling some of the club's greatest-ever players
DIXON, Ernest
Centre-forward.
Born: Pudsey, 7 July 1901.
Died: Bradford, 27 April 1941.
Height: 5ft 9in.
Weight: 12st
Halifax Town debut: v Lincoln City (h), Division Three (North), 26 August 1922. Won 3-1.
Career: Calverley 1919; Bradford City August 1921; Halifax Town 10 May 1922; Burnley 11 March 1924 (fee); Halifax Town 23 December 1924; Huddersfield Town 6 September 1929 (£1,000); Nelson 17 October 1929; Tranmere Rovers 28 July 1930; Gresley Rovers April 1933; Mossley.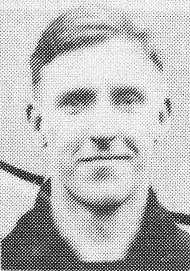 Ernie Dixon plundered a record 128 League goals for Halifax Town in two spells with the club spanning eight years. A dashing and fearless raider, he scored all manner of goals, either marauding down the centre or lashing the ball home from close range. Top scorer in seven consecutive seasons, Dixon's overall total was 137 in all competitions and to many he was a folk hero. But some supporters of that era, whilst appreciating his obvious prowess in front of goal, would for years talk about the one that got away – undoubtedly the biggest blunder of Dixon's career – the missed penalty in an FA Cup tie with Manchester City. Having fought out a commendable 2-2 draw with the First Division outfit at Maine Road in the second round in February 1924, Town were handed the perfect opportunity to take the lead in the Shay replay when awarded a penalty after 41 minutes' play. But whether put off by the delaying tactics of City keeper Jim Mitchell or merely by the sense of occasion, Dixon's spot kick was tame, Mitchell gathered easily, and the chance was gone. Though Town forced another replay, Manchester City won the third match 3-0 at Old Trafford. Yet despite fluffing such a gilt-edged chance, Dixon was still considered one of Halifax Town's prize assets, and when Burnley swooped following the cup exit, he, along with Ben Wheelhouse and George Parkin, was allowed to leave the club to help swell the coffers. But Dixon had only been signed as cover for the prolific George Beal at Turf Moor and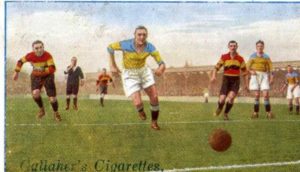 started just three League games, and when their manager John Haworth signed Tom Roberts, first team opportunities became even more limited. Keeping a close eye on affairs at Burnley was Halifax Town boss Joe McClelland, and he sought to bring Dixon back to The Shay, his transfer being sanctioned by the Burnley board following the recent untimely death of Haworth, two days before Christmas 1924. His return was great news for the Shay supporters and Dixon took up from where he'd left off. He had first come to McClelland's attention when scoring two goals for Calveley in their FA Cup defeat by Town in November 1920. But he arrived at The Shay in May 1922 after a season in Bradford City's reserve side, gaining valuable experience in the Central League and earning a call-up to the first team, making his one and only League appearance for the Bantams in a goalless draw at Sunderland in a First Division fixture on 25 March 1922. At The Shay, Dixon scored the first of three hat-tricks when he scored all the goals in a 3-0 win over Bradford on 16 September 1922, and three years later he became the first Town player to score four goals in a League game when he did so in the 5-1 victory over Rotherham United. Dixon was also the first Town player to net more than twenty League goals in consecutive seasons, when he did so in 1925-26 and 1926-27 with twenty-one and twenty-two goals respectively, and with his reputation as a fearless striker well assured, several weeks into the 1929-30 campaign he became new Huddersfield Town boss Clem Stephenson's first signing when he was sold for £1,000, money which went to pay back-wages to the Halifax Town players. Dixon had gone to Leeds Road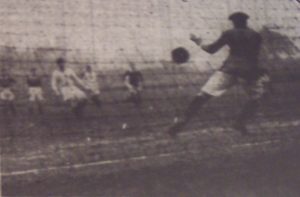 after forward Wilf Lewis broke down in training, but his time there, as it had been at Burnley, was less than fruitful and even shorter. He scored on his debut in a 4-1 defeat at Birmingham City on 7 September 1929 and then grabbed the only goal in the game with Leeds United the following week but had made just five League starts before joining Nelson the very next month. There, Dixon also scored on his debut in 2-1 victory at Hartlepools United on 19 October 1929 and ended that season as the club's joint top scorer, tying with Tom Carmedy on ten goals. But by the start of the 1930-31 season Dixon had moved again, joining Tranmere Rovers, where he enjoyed a new lease of life, forming a lethal partnership with Jack Kennedy. Between them they bagged 66 League goals in his first season – Dixon netted 31 for himself – and he would spend three seasons at Prenton Park, filling in at centre-half on occasions, and finished with 53 goals from 83 League appearances. Hampered by injuries in 1932-33, Dixon was allowed to leave for Birmingham Combination side Gresley Rovers in April 1933 having scored a career total of 191 League goals. He later turned out for non-league Mossley whilst running a fish and chip shop in West Vale, Halifax, before moving to Bradford where he worked as an engineer. Dixon sadly died after a long illness in April 1941, aged just forty.
League
FA Cup
WRSC
Total
Apps
Gls
Apps
Gls
Apps
Gls
Apps
Gls
1922-23
33
19
4
2
4
1
41
22
1923-24
25
14
8
2
0
0
33
16
1924-25
25
12
0
0
0
0
25
12
1925-26
36
21
1
0
2
1
39
22
1926-27
42
23
1
1
1
0
44
24
1927-28
33
19
1
0
1
0
35
19
1928-29
41
17
1
0
3
2
45
19
1929-30
2
3
0
0
0
0
2
3
 
237
128
16
5
11
4
264
137
Read more posts by Johnny Meynell