Stuck for a gift this Father's Day (18 June)
Why not treat him to some FC Halifax Town gift vouchers, available in £10 denominations – with every £20 purchased you will receive a special one off Father's Day t-shirt. . . some thing to wrap up!
Vouchers will be on sale at the Club Shop next Tuesday 13th and Wednesday 14th evening 5-7.30 pm both evenings.
If you don't live locally then please email the club shop orders@fchtshop.com by Sunday 12th June to arrange special delivery.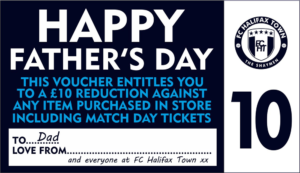 Read more posts by Kelly Gilchrist