FC Halifax Town were held to a 0-0 draw by relegation candidates Braintree Town.
It was announced in midweek that the Shaymen had signed striker Scott Quigley on loan. He spoke to Shaymen TV to give his thoughts on the game.
He said: "I thought it was a bit of a mismatch. I don't think we really played as well as we should be playing. It's the first game since I've been here, so I'm just learning faces and the style of play. I think it's nothing to worry about and I thought on another day we could've nicked it. I don't think they had many chances in the second half. But we're going to keep going and turn it around for the next game."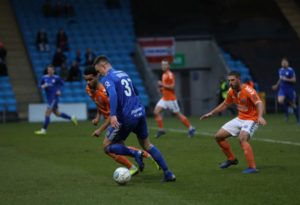 Whilst the Shaymen failed to net a goal. A positive that can be taken is the clean sheet. Quigley believed we were solid at the back and that the defence as a foundation we can build on.
He said: "I think we were solid at the back. I don't think they had many chances apart from outside the box. We didn't have many ourselves but that's how it goes some days. We've just got to crack on with it and go again."
Having signed from Blackpool on loan, Quigley made his debut and was hoping to get on the scoresheet. Quigley feels that if he gets the right chances, he will get goals.
He said: "What I add is first and foremost goals. I'd like to say I'm proven at this level, and if I get enough chances, I'm going to score a few goals. I think that's why he's brought me in, I've just got to compete. It's a tough league and hopefully I can just get my head down and obviously score goals. But also create goals as well."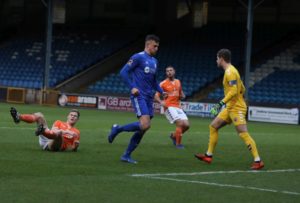 You often get strikers setting themselves targets at the start of the season. However, Quigley will be happy to get as many as possible, rather than set a specific target.
He said: "I'll just score as many as I can. One or two results and you can be talking about the other end of the table, it's such as close league. There's more to come, it's my first game in a while. I've had two games in the last two months, one in November and one in December. Today I think I felt it in the last 20 minutes and it can only get better."
Halifax take a break in the league with Solihull Moors visiting in the FA Trophy. Quigley is confident going into the game against tough opposition.
He said: "We're confident going into every game. They'll be a big physical side, so we'll mix it up with how we play. We were a bit too direct today and I think we've got players in there who are good enough to pass the ball. If we get our heads down, there are good characters in the dressing room I found that out the first two days of being here. Hopefully we'll just turn our results and get the fans something to shout about."
Watch the full interview on Shaymen TV right now
Read more posts by Luke Davis