I'm currently in year 12 at Maidstone Grammar school in Kent, despite coming from the south I've supported FC Halifax Town all my life coming to games at regular intervals with my Dad, the first of these that I can remember was an away trip to Canvey Island. I'm currently studying for my A Levels next year and
I then hope to go on to university to study sports journalism. I get to as many games as I can, fitting them in around school and having to look at the distance to get there.
Enjoy my first 'gaffer' interview . . .
By Luke Davis
Tuesday the 4 July signalled the start of pre-season training for Billy and the squad, so it was the perfect opportunity to get a few words from the 'gaffer' before he gets the team back into shape ahead of the 2017/18 campaign.
The play-off final win against Chorley is never far from anyone's mind, even for Billy he acknowledges how fantastic an achievement it was to be in that position after the disappointment of the previous campaign, which lead to relegation from the Vanarama Conference National. Billy said that after the rebuilding he had to do with the squad, which had 4 fully fit players at the time, it was always going to be an up-hill struggle for the team to get promoted . . . as no one has the right to anything in football. Billy also admits that credit had to be given to the players for completing the task that was demanded of them and how professional they all were throughout the season.
Whilst we all have our high-points within the season, most would say theirs would be the play-off final victory that brought the club back up to the fifth tier of English football. However there're always going be low-points during a season and for Billy this is no different as he felt dissatisfied by the early exit in the FA trophy. Halifax were knocked out by Matlock in the final qualifying round something that Billy thinks may have been a blessing in disguise. He says that whilst no-one would have expected to be knocked out in such a way it did allow the team to focus on the league which was the main goal from the outset of the campaign. Billy did also note that his North Ferriby side took the exact same path as they won the FA trophy at the end of the 2014/15 campaign, they then got knocked out in the final qualifying round and went on to win promotion from the Vanarama Conference North in the play-offs after the 2015/16 season.
Billy Heath was first appointed manager back in May 2016, an appointment that many fans found questionable however Billy stated he had no regrets or doubts about leaving his former club after just over 4 years at North Ferriby. He admitted that when a club like Halifax comes calling then it is very hard to turn down and the chance of managing this club was simply an offer he couldn't refuse.
Talking about the fast approaching 2017/18 campaign Billy insisted that it is very hard to predict where we will finish next season as nobody has the right to win anything in football and that will ring true next season as we may cause a few upsets and we may also struggle against teams we have historically done better than. Billy went onto say that the squad we've assembled is already looking very competitive with a very solid defensive line, that will be hard to break down, and with a few more additions then the squad should be able to really push on in this league and be competitive. That said, it will be tough and the competition from the other teams will be fierce.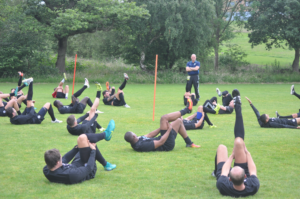 When asked about the squad Billy said that the key is to have competition for places which is something we had last year with many talented players not being able to cement a place in the first team, and that's something Billy is trying to achieve again. He also said that he's looking at potentially bringing at least two more players in with a wide midfielder and a forward, following the loss of Richard Peniket to Gateshead, being key positions to strengthen. Billy also admitted to having missed out on a few targets which in part is down to the amount of money in the market at the moment with the likes of Salford and others being able to draw players with the money on offer. But he does hope that there will be more signings coming in soon. Billy went onto say that due to the club's new position it will be easier to get players in on loan.
As the fixtures were released on Wednesday 5 of July at 1:00pm Billy gave his prediction, ahead of the release, for the first game of the season being Hartlepool at home, not too far off with the prediction but we have Aldershot instead. Billy did go on to say that all games are important and along the way their will be trials and tribulations that naturally come with football and that he hopes the side can put in strong performances week in and week out, no matter whether it is the long trip down to Torquay or the relatively short trip to Guiseley.
Billy believes that the youth players who may be breaking through such as Marko Basic, Shiraz Khan and Ross Barrows who are all under contract with the club, are going to be given the opportunity to fight for a position in the first team.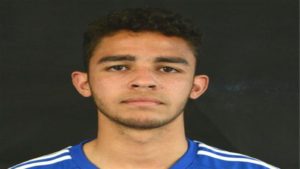 Hopefully we'll be able to see what they have to offer during the pre-season.
Billy admitted that he wanted to take the club to a higher level and to be the best manager he could be following successful spells from managers such as Neil Aspin, Chris Wilder and George Mulhall who helped to take the club higher in the past. However Billy did acknowledge the struggle of being a part-time club in a division that is almost entirely full-time, this handicap does mean he gets to spend less time getting his ideas across to the players and in training with them.
Over the course of the season you're always going to have a mixture of results and when results dipped over the Christmas period there were sections of the fans that were chanting for Billy Heath to be sacked. Billy accepts that this was a difficult time for the fans and that he understands there hunger for results as he also wants to win as much as possible. He does however argue that in football you have to have patience and that changing managers in quick succession could be damaging to the team, he also reiterated the point that you don't have a right to anything in football.
Billy agreed that he shares the aspirations of most of the fans and board in that he hopes within 5 years the club can be back in the football league and potentially a consolidated team in the league-however he did say that for this to happen, there would have to be some changes implemented within the club.
Billy revealed his more laid back interior as he revealed that the team he supports is Liverpool. He also announced his three favourite songs to be Wonderwall by Oasis, if I can dream by Elvis Pressley and Viva La Vida by Coldplay before ending things by deciding that if he was any fruit he would be a pineapple due to the spiky exterior and the fact that it is softer on the inside… we believe you Billy!
Read more posts by FC Halifax Town