With suspension of football nationally, we thought that we'd take a look at how Halifax Town fared during the war years, the last time a football season was brought to a halt. Back then, though the 1939-40 season had only just got away, and the Football League had time to organise substitute competition.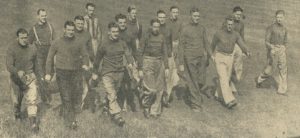 The 1939-40 season got under way with war looming, but with new players Walter Bruce, Jack France, Sam Doran and the powerful centre-forward Reg Baines joining the likes of players already at the club, such as Bill Allsop, Horace Green, Tom Barkas, Ted Widdowfield and Stan Wood, Town made a promising start. Having achieved two wins and a draw from their first three games, they were lying second behind Accrington Stanley when war was declared on 3 September. The Football and Scottish League programmes were immediately cancelled and all contracts between clubs and their professional players suspended.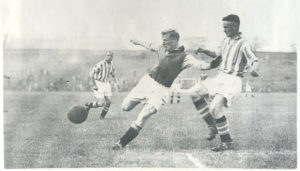 Two days later, however, plans were drawn up to form a wartime league in West Yorkshire and Lancashire composed of clubs in neutral and reception areas and on 2 October, 82 clubs agreed to take part in regional competitions, with Halifax Town included in the North-East Division.  The Football League allowed participating players to be paid 30s, whilst also sanctioning the use of guest players who were stationed locally. For Halifax Town, the North East League meant competing against bigger clubs, whilst for the spectators came the opportunity to view big name players, not only in the oppositions' sides, but also their own.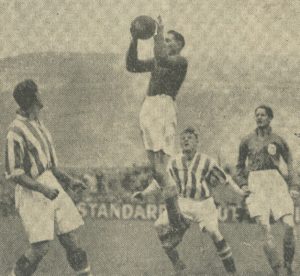 While many players were immediately called up for war action, manager Jimmy Thomson was fortunate that he could still initially call on the services of Barkas, Green, Wood and Jake Ruecroft, and for the whole duration of the war years, full-back Allsop.
Town had engaged themselves with friendlies with Leeds United, Bradford, Sheffield United, Oldham Athletic and Barnsley to extend their unbeaten start to eight games, but once the North East League began there was an immediate downturn in form. Town crashed 5-1 in the first match at Bradford City, and continued to struggle, their 4-1 home reversal with York City on 18 November particularly galling. Included in Town's line-up for that match was their first guest player, Huddersfield Town's Jack Mahon, formerly of Leeds United and West Bromwich Albion, but the following week he scored the winner against the club that officially employed him as the Shaymen pulled off a shock 2-1 victory at Leeds Road over a Terriers side containing six internationals.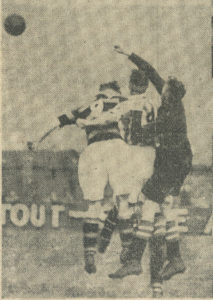 Town came up against well-known players such as Middlesbrough's George Camsell and Albert Stubbins, who inspired Newcastle United to a 4-3 win at The Shay, and whilst they struggled in the league, this difficult time was compounded by the winter blast which left them without a home game for over two months. It wasn't until 2 March that Town returned to action, Stan Wood scoring a pile-driver to earn them a point in a 2-2 draw with Bradford City.
Thomson had called upon Burnley goalkeeper Ted Adams for that match, then the following week, Huddersfield Town's international keeper Hugh Turner took his place in the side for the visit of Hartlepools United, along with former crowd favourite Charlie Davies, who, after having made his availability known to the Town boss via the Halifax Courier's Tom Dickinson, went on to play five games. Turner stayed a little longer and featured in some memorable games, notably the 1-1 draw with Middlesbrough, who included in their side the mercurial Wilf Mannion, on 6 April, and the match with Leeds United on 25 May, where Town came from two goals down to win 3-2.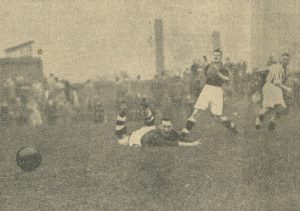 By then, Town had already bowed out of the Wartime Cup at Hartlepools but responded by racking up their best victory of the season when defeating Stockport County 4-0 at The Shay. But this game was only a friendly and was watched by a meagre crowd, prompting the directors to review their policy of playing such games. 'The substitute programme for normal league games has been a complete fiasco. It has failed entirely to recapture public interest,' they stated. Town's League programme itself was wound up as late as 29 May when they travelled to Newcastle United's St James's Park, but with five guest players in the side they were humbled 6-1, finishing the season in last place in a table of eleven clubs.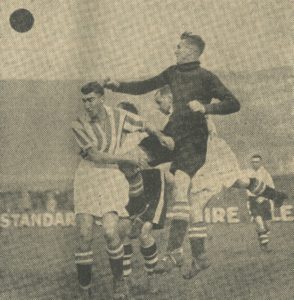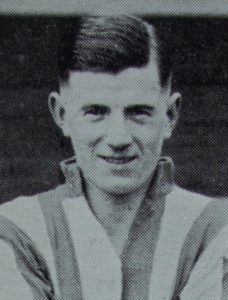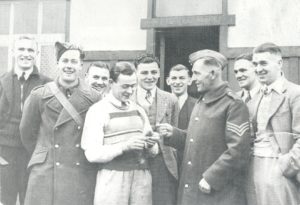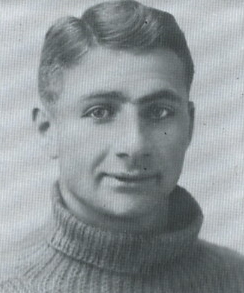 Read more posts by Johnny Meynell