Sponsorship in all forms of sport come and go, so how lucky are we to be sponsored by a company for over ten years and still going?
That's the continuous support INTEGRO insurance brokers has given us, both in their most recent guise and formerly as Doodson Broking Group. The INTEGRO name is displayed on all our shorts both home and away.

Commenting, Chairman David Bosomworth said:
'We are very fortunate as with all our sponsors to have such backing and loyal backing too.
This is also a great example where we as a Club can provide reciprocal support using their services through the Club and other businesses.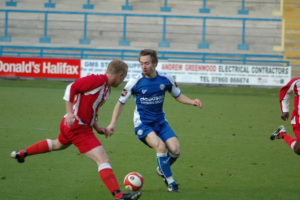 We are grateful to everyone at Integro Insurance Brokers
Tim Marshall Director on behalf of INTEGRO:
"We're very proud to have sponsored FC Halifax Town for over ten years now and in that time they have gone from strength to strength. We hope our partnership goes some way to helping the Club move forward. What a great start to the season, I'm sure no-one is getting too carried away but we wish them well for the rest of the season'.
For more information about INTEGRO, please visit the website www.integrosport.com
For anyone seeking commercial, business or event insurance, please contact INTEGRO
Read more posts by FC Halifax Town