Join us for our fixtures against Dover Athletic and Morecambe for £30 (Adults) and £25 (Senior Concessions 65 & over).
You can buy this ticket(s) either online or at the game on Saturday between 1.30 and 3pm from the main reception. (We'd advise you to buy online to save queuing).
If you do purchase online then you can collect your ticket(s) from our collection point, 1.30-3pm – again from the East Stand main reception.
You'll then be issued with two tickets, one for each game which can be used via the east and south stand turnstiles.
Season ticket holders (Adults and Seniors) – we want to reward your loyalty . . . join us for the vital FA Cup game against Morecambe Tuesday 20th November -7.45pm and you'll be given a free Pie & Peas dining voucher which entitles you to dine with us prior to the Braintree Town home fixture.
All you need to do is bring your season ticket book pay your relevant entry price and tear out the REARRANGED GAME A ticket from the back of the book. Please give this ticket to the turnstile operator who will then give you your meal voucher. (If they don't remind them!!!)
You can use this voucher for dining in the banqueting suite prior to our Braintree match on 5 January 2019. (Even if you usually watch the game from the south stand please still join us, as you can then access the south stand after eating)
See you Saturday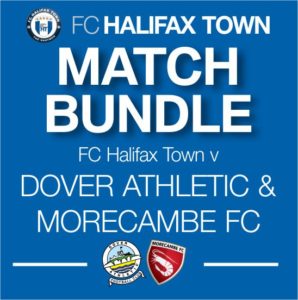 Read more posts by FC Halifax Town