The youth team programme at FC Halifax Town aims to expose our scholars to a variety of competition.  The youth team compete across two leagues; National League U19 Youth Alliance and the English Colleges FA league in addition to the FA Youth Cup.
A wide range of fixture are scheduled at different points throughout the year including those against professional clubs and senior non-league teams.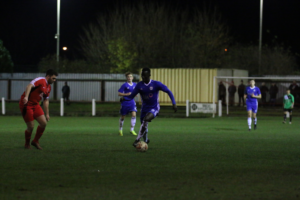 One such fixture was recently played against Bradford City where the youth team achieved an excellent result against a strong Bradford side.  Watch the goals Bradford Clips
Youth Team Head Coach, Mark Trueman said: "It is important we get the balance right for our players, we have a group of talented young players and exposing them to different types of opposition is key to their long-term development.
"This season, in the National League U19 Alliance we have averaged 2.4 points and 3.8 goals per game, adding these additional games into our programme provides' a fantastic challenge for our players.  The Bradford fixture is a good example of how far the youth team programme has come at this club.  The goals demonstrate how we were able to impose our style of play on and off the ball against professional opposition.
"The quality of training provision the players receive here is comparable with, if not better than many professional clubs.  This should, as a minimum ensure our players continue their development trajectory in line with many of the top professional clubs.  The additional games programme; be that against, technical and organised academy sides or physical and experienced non-league teams will stretch our players and help to accelerate their progress further."
If you are currently in the Under 16 age group and looking to decide regarding your football and academic future and if you can demonstrate an academy background with a professional club you can apply to attend our invitational open evening by following the link below:
http://fchalifaxtown.com/news/fc-halifax-town-youth-team-invitational-trials/
Read more posts by Steve Nichol